Britney Spears To Be Fired From 'The X Factor' — REPORT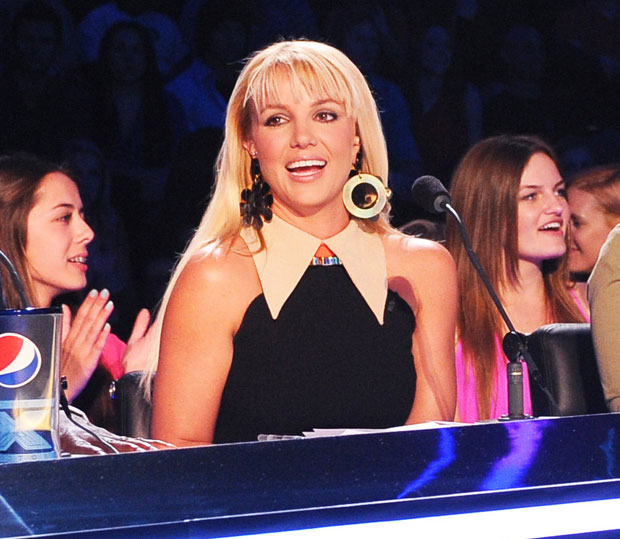 "I'm sorry sweetie, but I just don't get it." Other than her signature stink face, that was the harshest critique $15 million judge Britney Spears doled out on The X Factor this season. Her doting praise for her own contestants mainly consisted of three-syllable adjectives like "beautiful," "tremendous," and, of course, "amazing." So — after the highly buzzed outsters of Spears' predecessors Paula Abdul and Nicole Scherzinger last year, is it all that surprising that Spears' Christmas gift may have been a cruel swing of the axe?
At least, that's what US Weekly reported this morning, after a source close to Simon Cowell told them that the proven to be harsh producer wanted her out. Fox declined Hollywood.com's request for comment, but we wouldn't be too surprised if the new year brought yet another high profile search for a buzzworthy judge. (Because that's what singing shows are all about now, right?) Of course, finding a replacement for Spears wouldn't be the show's only concern — judge L.A. Reid recently announced that he was leaving to focus on his own recording artists.
So, will a new name game begin? If so, that would leave The X Factor exactly where it found itself last year: In the news, struggling to find its feet, behind Idol and The Voice in ratings, and on the hunt for two big-name judges. And that, Britney says, is not particularly amazing.
UPDATE: On Thursday evening, an X Factor spokesperson gave the following statement: "No one has discussed next years judging panel yet — any reports otherwise are complete speculation."
Follow Shaunna on Twitter @HWShaunna
[PHOTO CREDIT: Fox]
MORE:
'X Factor': Tate Stevens Talks Album Plans, L.A. Reid Talks Successor (Rihanna?)
'X Factor' Needs Another One Direction: Why Fifth Harmony Isn't Done Just Yet
Dear Britney: Doing 'The X Factor' Is a Really Bad Idea

Surprise! Kate Winset Marries Ned Rocknroll: Wedding Details