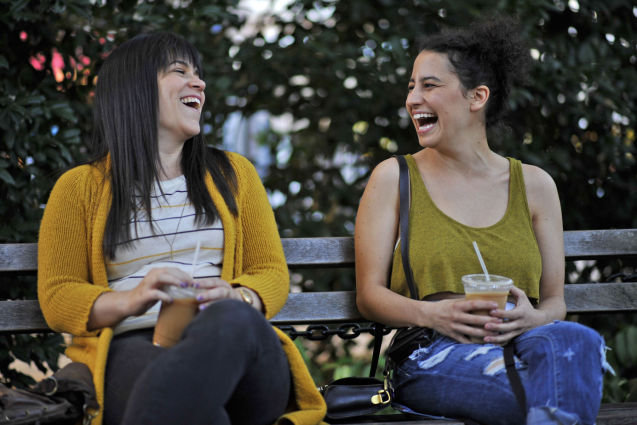 Comedy Central
On paper, Broad City and Girls are virtually the same. Both series are about educated, under-employed, hipster-adjacent single women in New York City. Both comedies take a drastically different approach to sex and relationships than Sex and the City. And yet, the shows couldn't be more different. Broad City, by virtue of being on Comedy Central, is obviously opting for the LOLs. It's also doing for New York what Portlandia does for the Pacific Northwest. Girls is written and directed by and stars Lena Dunham so it's an invitation into her mind and sense of humor, and underneath her clothes. It has funny moments but seems to target a specific niche audience.
COMEDY
Both programs have some iconic comedy minds on board. Broad City was created by and stars Upright Citizen's Brigade alums Illana Glazer and Abbi Jacobson, and is produced by Amy Poehler, while Girls is produced by Judd Apatow. The main difference is that the former has the virtue of a broader sense of humor. Get it? Broad City  ensures that everyone is in on the joke. It opts for absurdly wacky takes on real life scenarios. For example, the girls want to make money for a concert so they try everything from street peddling and office supply theft to naked maid service. The jokes go so far that at some point you will hop on board. Girls is very subtle in its humor. Outrageous things will happen, and you'll laugh here and there. But then a huge conversation will erupt about these moments and you start to question if you were supposed to laugh in the first place.
Winner: Broad City
SEX
Both series take a frank view of sex. It's great to see women at the helm of representations of female sexuality. It shows that despite the questionable feminism of Sex and the City , something good came of it. On Broad City, both girls frankly discuss their sex lives… occasionally during the act, via skype. The show doesn't shy away from being graphic. And yet, Girls goes 10 steps further. Sure, Girls is on HBO and free to exhibit nudity and strong sexual content. But it really goes there. Whether it's precariously pedophilic pillow talk, the girl from Roswell getting caught in the line of fire, or Dunham baring her breasts in every episode, the show opts for a hyper-real approach to sex. It explores the taboo, awkward, or painfully uncomfortable moments of America's favorite pastime. Whether wanted or not, Girls is forcing people to confront their discomfort with and timidity about sex by facing it head on.
Winner: Girls
THE CITY
Girls seems like a photo-real version of the New York City in Friends. It may not be filmed on a Hollywood sound stage, but the vast majority of its characters are white and of superhuman attractiveness. Despite Dunham's celebration of her nude body and a shocking full frontal by Bosom Buddies star Peter Scolari, the series tends to prominently feature hot-bodied model types. It exists in a parallel universe where the unemployed and baristas can afford large New York City apartments. In Season 2, the show's solution for its lack of diversity was to have Hannah date Donald Glover for a few episodes. Remember, that very special Friends episode where Ross dated Aisha Tyler? We haven't come too far.
On Broad City, people look like people. People of all different shapes, sizes, and races pop in and out of the show. That's what New York is. The question of race on the show is handled honestly. Illana has a friend with benefits played by black comedian Hannibal Buress. Although not politically correct, the show does acknowledge that Illana fetishizes him and most men by their race. It does not endorse these ideals, but serves to showcase the character as racially insensitive and a sexual predator.
Ultimately, it seems there's a class distinction for both series. Broad City embraces the fact that the girls are broke and have to suffer to survive in New York. The humor, tension, and wild scenarios come when they try to make light of that struggle. Girls exaggerates the struggles of entitled young artists and professionals who seem to have no financial stakes. They seem oddly connected though; serendipitous book deals and financial opportunities happen as if by magic.
Winner: Broad City – there's still a recession!
Which series do you prefer?