'Brooklyn Nine-Nine' Recap: Who Were The MVPs Of 'Pontiac Bandit'?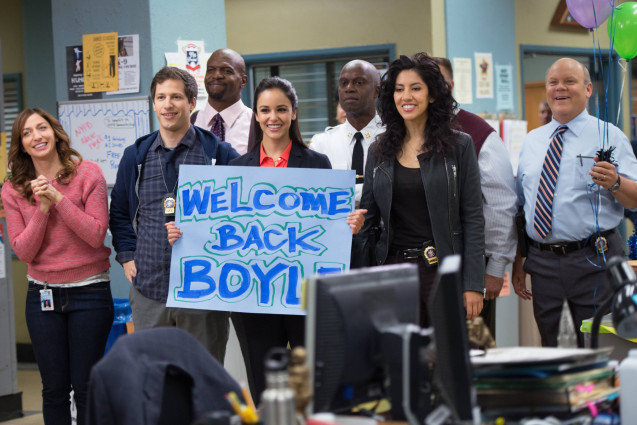 FOX
The holidays have officially come and gone, which means that Brooklyn Nine-Nine is back with new episodes (and two shiny Golden Globe nominations). Onscreen, Boyle has also returned after taking a bullet to the butt to protect a fellow officer. Unfortunately for the rest of the precinct, he's still in a cast, which means that he's riding around on a mobility scooter and causing chaos everywhere he rolls. However, Holt is insistent that they all try and make his first day back special, even if that means taking an "adventure in diarrhea" and letting him pick lunch or holding him up to help him use that bathroom.
Meanwhile, Diaz has finally caught the perp she's been chasing on fraud charges, but he claims to be able to help Jake catch the "Pontiac Bandit," a car thief he's been chasing for years. He convinces her to drop the collar to catch his criminal, which turns out to be the wrong course of action when Doug Judy (guest star Craig Robinson) reveals himself to have been the "Pontiac Bandit" all along, and escapes. And in the midst of all of this, Holt has two puppies that he's desperately trying to give away to someone in the precinct before their cuteness starts to undercut his authority.
With the 99th precinct back to it's usual, insane antics, who managed to stand out this week and become the MVPs of "Pontiac Bandit?"
Captain Holt
It's pretty obvious at this point in the season that we love everything that Andre Braugher does on this show, but his trademark deadpan delivery was heightened this week by the absurd addition of two "small dogs." Watching him carry those puppies around and attempt to discipline his officers despite the cute additions was a great twist to the usual Holt storyline. 
– After Boyle runs over Holt's foot with his new scooter: "I am in… incredible pain."
– Holt attempts to explain the presence of the puppies: "My husband's dog Cheddar had relations with the neighbor dog, Karate, and produced these two smaller dogs." Holt could not be less comfortable around puppies if he tried. 
– Watching Jake struggling to do solve a basic math equation: "Do you need a math tutor? Because the department will provide one for you."
– Holt wants to give the puppies to Terry, and introduces them with, "This is Richard, and this is Dan. They are puppies." Then, when Terry turns the offer down, Holt holds them up to his face and lets him know that "All three of us are disappointed in you."
– On Gina: "She live-tweets everything. Ruined Downton Abbey for me." 
Gina Linetti
Usually, when Gina doesn't have a subplot of her own, she tends to disappear into the background with just one or two quips to remind us of her presence, which is a shame, because Chelsea Peretti is one of the show's greatest assets. This week, however, we still got plenty of Gina, even after she escaped to the evidence room to get away from Boyle and his enthusiastic clumsiness. 
– When Boyle spills hot coffee down his cast, Gina decides to counteract that by pouring an entire container of milk down after it. 
– Before escaping to the evidence room, she left a note on her desk that simply said "Gone Leaving."
– "I've redirected all of Captain Holt's calls to my cell phone, my battery is at full charge, and I have loose diner mints in my purse. This is my home now."
– Only Gina would come up with a secret escape plan to avoid Boyle and then live-tweet her afternoon. 
Jake Peralta, Rosa Diaz, and Doug Judy
Peralta and Diaz haven't had too many scenes together thus far, but Andy Samberg and Stephanie Beatriz have great chemistry, and so it was great to see them get an entire story arc together. The fact that they went to the Academy together was a great way to explain the bond between them — they have always felt like the most natural pairing on the show — and it added some emotion and depth to their chase. Robinson is a perfect guest for this show, adding the right amount of goofiness to the plot. Hopefully, the open ending will give the show an opportunity to bring him back in the future. 
– Jake, testing out if he should change his name: "Does that sound better? Jack Peralta: Crocodile Hunter!" Diaz: "Yes."
– Jake: "The Pontiac Bandit!" Doug: "We called him Bill, but whatever."
– After finding out that Doug's mother thinks he's an architect with "all-white employees," Jake quips, "Why don't you just tell her you're an astronaut?" Doug: "Because space is scary! Look what it did to Sandy Bullock!"
– Diaz practically bent over backwards trying to avoid letting Doug kiss her, and it was hilarious. 
– In order to keep Jake from looking like a cop on their sting, Doug puts him in a giant white tuxedo. Diaz's reaction? "You look like a Boyz II Men Easter album."
– Jake, on the suit: "Is it triple-breasted somehow?"