'Brooklyn Nine-Nine' Recap: Who Were the MVPs of 'The Ebony Falcon'?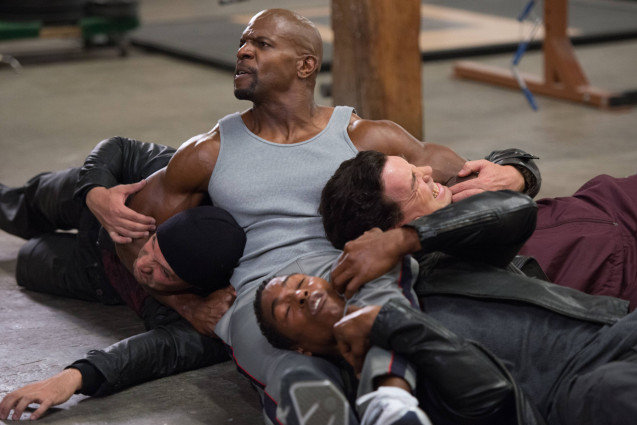 Eddy Chen/FOX
Terry Jeffords is a complicated man. He's a detective, a father, a talented artist, a yogurt connoisseur, and most importantly, The Ebony Falcon. This week, Brooklyn Nine-Nine brought another story arc to a close with Terry officially returning to field duty. Peralta and Boyle are busting a steroids ring at a local gym, and they want Terry's help in order to investigate a man named Brandon Jacobi, because he's the only one who could pass as a personal trainer, bouncer and assistant manager at a local PetSmart. But once they see Terry with his twins, Peralta gets scared that something will happen to him in the field, leaving them without a father, and so he does everything he can to keep Terry out of harm's way… even if that means botching his own investigation. Meanwhile, Gina's apartment has been robbed, and she becomes upset when she feels like Santiago and Diaz aren't doing all that they can to bring justice to the person who broke in.
Both Gina and Terry had significant moments of character development this week, with Terry finally becoming comfortable in his job once again, and Gina revealing that even though she appears to have no feelings whatsoever, she can still have moments of vulnerability. It's been fun to watch the characters delve further into the backstories and personal lives of the motley crew that make up the 99th precinct, and grounding these two oddballs in particular opens them up to a new array of plots, both insane and realistic. 
But who stole the show on last night's episode, "The Ebony Falcon"? And does anyone know whether Kelly is Scully's dog or his wife? Anyone at all? 
Terry
After spending a few weeks in the background, Terry was brought to the forefront this week, and his character arc has reached its culmination. Terry Crews clearly loves playing Terry, and he plays confident and intimidating just as well as he played terrified and overwhelmed. Plus, we finally got to see Cagney and Lacey for the first time, and watching him speak baby-talk and sing lullabies was delightful. 
– Explaining that he needs to read his girls a story before bed: "The Ebony Falcon needs to read Go, Dog, Go!"
– The joke may have been obvious, but Terry chst-bumping Peralta so hard that he goes flying was still the best physical gag of the night. 
– Terry nervously declaring himself to be "one of many" black Trents included a wonderful wide-eyed reaction shot from Crews. 
– On Jacobi: "You know, he's a mean dude, but I think I'm making progress. He asked to borrow my squat belt, I refused, he respected that!"
– After Jake declares that the Ebony Falcon takes bad guys to jail and bad girls to bed: "Hell yeah, he does. Except, now the Ebony Falcon is monogamous and too tired for sex, so his only indulgence is fresh fruit yogurt parfaits!" Jake: "Terry loves yogurt." 
– Jake: "How did you find out about this?" Terry: "I'm a Detective Sergeant with the NYPD! Holt told me." 
– If Terry were a vacation, he would be a lake trip. 
– Terry only taking on as much as he can handle means holding down three bad guys by himself, and leaving one for the backup team. 
Gina
Chelsea Peretti has been getting a lot of screen time recently, but this is the first time that Gina's been the star of a whole plot. Like Terry, it's fun to watch the writers delve into the weird mystery that is Gina's personal life, and with every new, strange detail they reveal, Gina becomes better and better. 
– On asking her coworkers to investigate the robbery: "You think these buffoons can help?! They're buffoons!" 
– Gina owns a fur bedspread, a ton of lycra body suits, eight full drawers of underwear (because she's civilized), a large painting of a naked lady on a lion, a music box that plays "She Works Hard for the Money," and a set of Joseph Gordon-Levitt nesting dolls: "Homemade and irreplaceable."
– Diaz: "They found a strand of hair belonging to Mario Lopez." Gina: "I bought a lock of it at auction. That's cool it's real."
– Gina makes a wonderful rye, according to Santiago. "So dense, so yet so moist."
– She once said that the best comedy of all time was The Girl With the Dragon Tattoo. On second thought, Gina might not actually have any feelings after all. 
– "I asked for a police escort to work this morning, and it took the dispatcher a while to find me a young Kevin Costner-type."
– Upon gifting Santiago and Diaz with lycra bodysuits as a thank-you: "The cool thing is, you can eat whatever you want. These are right there with you." 
Boyle
This week, Boyle discovered his true calling: gym manager. Even though they were only staking out the location undercover, Boyle managed to transform the gym from its sorry state, and Joe Lo Truglio plays every line with pure, earnest enthusiasm. 
– "Gymfiltrating. I think it will really catch on if more people infiltrate gyms." 
– Boyle is a sucker for a high-five. 
– Watching Terry put his daughters to bed: "He's so strong, yet so gentle. Like an enormous, muscular Ellen Degeneres." 
– "Two things: One, this gym's wipe-down policy is criminally lax, so I rewrote it. Two, I lowered the temperature of the water cooler by two degrees. I haven't heard any feedback yet, but I see a lot of refreshed faces. Oh, yeah, and Jacobi is on his way." 
– Jake: "Who have you become?" Boyle: "Myself! I've become myself!" 
– After Jake asks to hear about the new scheduling system for the gym: "I've been waiting so long to hear you say those words. Come with me, and experience the future of cloud-based scheduling."