'Brooklyn Nine-Nine' Recap: Who Were the MVPs of 'Unsolvable'?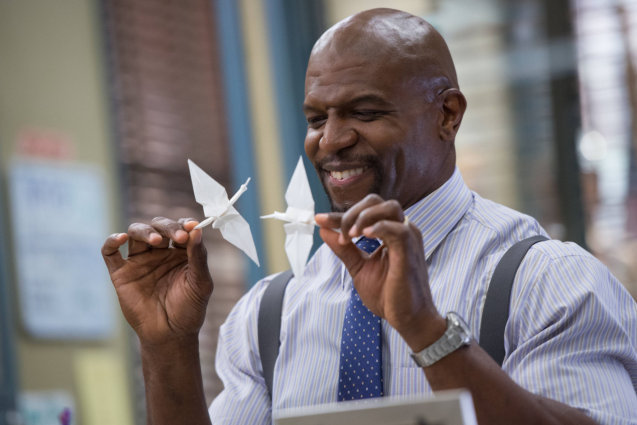 FOX
On this week's Brooklyn Nine-Nine, Peralta is desperate to close an "unsolvable" case: Case 52ABX-32QJ, in which a man was murdered via an exploding boat, leaving behind only a charred finger and a melted torso for evidence. Since he and Terry were originally assigned the case eight years ago, Perlata convinces Terry to give up his weekend as well and help out. Of course, the real reason that Peralta wants to spend his weekend working is to distract himself from the fact that Santiago and her new boyfriend Teddy (Kyle Bornheimer) are taking a lovely weekend trip to the Berkshires. Well, they were, until Santiago remembered she agreed to help Captain Holt with a community organization meeting.
Meanwhile, Boyle and Vivian are still working through their move to Ottawa, which means he spends much of his workday on the phone. But since the precinct isn't a great place to have an emotional conversation — what with all of the hijinks, murder and holding cells full of perps — Diaz helps him out by introducing him to "Babylon," the secret bathroom she and Gina use as a private getaway. So, break out the Salt 'N' Pepa and your animal-covered nap blankets, because it's time to close a difficult case of our own: determining the MVP's of "Unsolvable."
Terry Jeffords
It can be tough to balance being both an authority figure and one of the goofiest characters on the show, but Terry Crews always manages to find the right combination of the two.
– It's not a fancy tea party without napkins in the shape of swans, and luckily, Terry is the king of origami napkins.
– In a beautiful flashback, we learn that eight years ago, Terry wore Kangol hats to work, Peralta had frosted tips and Boyle had, quite possibly, the worst haircut of all time.
– Peralta: "That doesn't sound good." / Terry: "I know. That's why I sad 'bad news.' Terry believes in having a clear topic sentence."
– On Taylor Swift: "SHE MAKES ALL OF US FEEL THINGS!"
– Peralta: "Do they run from the bulls in Pamplona?" / Terry: "Yes. That's the whole point of it."
– Terry's biceps often mock people. It's a good thing to know.
– Jake and Terry drunkenly dancing to "Whatta Man" is the best capper of the season. There is little in this world that is more delightful than Crews dancing, so it's no surprise that almost all of Brooklyn Nine-Nine's best music moments have come from him.
Santiago and Holt
Santiago spends so much time sucking up to Holt that it was a nice change of pace to see her attempt to get out of doing something for him for a change. Melissa Fumero plays flustered beautifully, and this week she nailed every single reaction shot. And since she and Andre Braugher are always hilarious together, it's no surprise that their scenes were some of the funniest of the night.
– Holt sprained his wrist hula-hooping: "Kevin and I attend a class for fitness and for fun. I've mastered all the moves: the Pizza Toss, the Tornado, the Scorpion, the Oopsie-Doodle." And the only person who knows this is Peralta, because "no one will ever believe [him]." Braugher's devious face as he deletes the photos is a thing of beauty.
– Santiago, on her dental pain: "I am a rock, I am an island, I… have lapsed into song lyrics again."
– Holt, giving last year's audio-visual presentation: "I… just deleted… everything."
– Holt: "My brother-in-law is one of the best oral surgeons in the quint-state area." / Santaigo: "That's two better than the tri-state area."
– Santiago: "I may be a liar, but I have great teeth, and no one can take that from me." / Dentist: "Have you ever heard of over-brushing?" / Santiago: "Oh, no."
– After Santiago finds out she has seven cavities, Holt chides: "I have to say, I feel like you deserve this."
– When asking for the following weekend off, Santiago starts with "I know this comes right on the heels of betraying you, but…"
– Fumero had the night's best bit of phsyical comedy when her drink just spills down her face, since Santiago still can't feel her mouth.
Gina
After a few weeks of Gina-heavy episodes, she took a backseat this week, and mostly hung around to help keep Boyle's storyline moving. Chelsea Peretti can deliver almost any line perfectly, and this week was a wonderful showcase for that talent.
– After Santiago describes the activities she and Teddy have planned: "Sounds like you two have a lovely lesbian vacation planned."
– On excuses for getting out of work: "Can't go wrong with dental emergency, or a death of a triplet. Now that one you can use twice."
– Gina, on Babylon: "It's the best thing in my life, and I have a very full life. Do you know I know Papa John? The Papa John." / Diaz: "Someone is lying to you."
– Diaz introduced Gina to Babylon after she got a stomach flu at a sewer rave. "Fun night, though."
– After Holt forces Santiago into seeing a dentist, Gina rubs in her failure at lying with: "He's a good dude. He's a good, good dude."
– Gina's over wolves. She's into angry unicorns now.
Scully and Hitchcock
The fact that Scully and Hitchcock are only interested in being decent detectives when there's a secret bathroom involved is both hilarious and wonderfully fitting. They perfectly capped off that reveal with a one-two punch of them bullying Boyle into revealing Babylon's location, and then using their new secluded restroom to wash their clothes in the sink. It's kind of amazing that these two still have jobs considering how ridiculous they are.