'Brooklyn Nine-Nine' Recap: Who Were the MVPs of the Season Finale?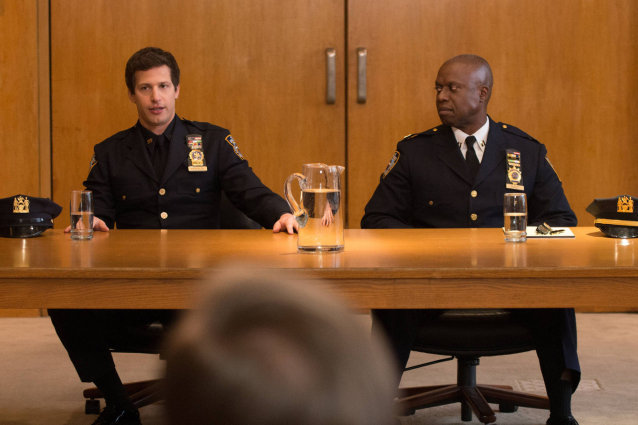 FOX
All good things must eventually come to an end, and this season of Brooklyn Nine-Nine is no exception. But they went out with a bang, wrapping up several season-long arcs and leaving off on as much of a cliff-hanger as a feel-good sitcom could possibly manage: Peralta has been fired from the NYPD.
After spending weeks staking out a community leader under suspicion of money laundering and drug trafficking, against both Holt and Commissioner Podolski's wishes, Peralta manges to get Santiago and the captain to join him in gathering evidence. The whole operation culminates in Peralta purposefully getting fired in order to go undercover with the FBI to investigate the Iannucci crime family. He's already got his backstory worked out. Meanwhile, Boyle and Vivian have broken up over their inability to decide on a place to live, and Boyle has fallen into a spiral of despair and depression. Luckily, he's got Diaz and Sgt. Jeffords around to help him get over his broken heart. 
So, which characters are cartoon thumbs-up and which ones are faces with exes for eyes? Let's all be little boy and little girl holding hands and decide who were the MVPs of Brooklyn Nine-Nine's season finale, "Charges and Specs." 
Peralta
Although Peralta started the season as the weakest character on the show, he has progressed to become one of the funniest, most three-dimensional characters in the precinct. It's a testament to both the writers and Andy Samberg that Peralta has come far enough to support this new undercover storyline, as the old Peralta wouldn't have been compelling enough to pull it off. 
– Like every white guy who has ever played pick-up basketball, Peralta shouts "Kobe!" before taking a shot, only to have the ball slammed back into his face. It seemed like an obvious goaltend, but that's beside the point. 
– Peralta: "Trust me, this is reliable tittle-tattle!" 
– A special shout-out to the actor who played Young Jake for his pitch-perfect delivery of the depressed, "We were gonna grind!" 
– On the pace of pursuing justice: "Could it be gently nudged into hyper-speed?" 
– Peralta's thrift store dance is even funnier at full-speed than it is in slow motion. There are few people who can flail their arms as well as Samberg can. 
– Watching Holt dance: "Who is he?!" 
– Peralta's preferred method of getting fired? "And your mother! All of your mothers! And your grandmothers! And all of your grandmothers' little dogs! You can't handle the me!" 
– Receiving his undercover assignment: "Eyes closed, head first, can't lose!" 
Holt 
This week, we got a new insight into Holt, and we learned everything from his secret dancing skills to his favorite breakfast. Andre Braugher's exceptionally deadpan delivery will be dearly missed over the hiatus. 
– Even better than the reveal that Holt ended an eight-year relationship with a calm handshake is the welcome return of Holt's old-school cop mustache. 
– Peralta: "I brought you your favorite breakfast: a plain bagel and a water." / Holt: "Don't try to soften me up." 
– Holt is a master at charming judges. He's had so many great lines this season, but someone Braugher managed to make "Wassup," the single funniest thing he has said all season. I'm pretty sure Peralta and I were making the exact same face at that moment.
– On his ability to seduce women: "I find many women want… what they can't have." 
– Interrupting the thrift store montage: "Jake, the overwhelming time pressure." 
– Holt is an exceptional ballroom dancer. Also, his solo cha-cha as he attempts to get Peralta to focus is a thing of beauty. 
Boyle
Joe Lo Truglio can play a lovable sad sack better than almost anyone else on television right now, and "Charges and Specs" gave him the best venue yet to showcase those talents. 
– Boyle, dressed like an extra from The Matrix, brokenly declares that "Life is a pit," after Vivian dumps him. 
– The running joke about Boyle only eating "eggs in a bag" for sustenance provided some of the night's best visual gags. Between him keeping one in his pocket for later and swallowing them whole, Lo Truglio managed to sell every gross, pathetically hilarious moment. 
– A text Boyle sent to Peralta: "I finally know what a used napkin at a barbecue restaurant feels like." 
– On his hand injury: "It makes it hard to navigate my egg-sack." 
– Boyle, stalling at the hearing: "I only heard Det. Peralta talk about Lucas Wint once. We were in my car. I took Vivian on our first real date in that car. Vivian is my fiancee. My ex-fiancee. My never-wife." 
– Finding out that Peralta is going undercover: "I feel like my heart just threw up." 
Santiago
This week combined Santiago's desperate need to please Holt with her determination to do the right thing, and Melissa Fumero nailed every line and reaction she was given. And that dress did make her look like a mermaid. 
– Holt is the executor of Santiago's will. 
– Sticking up for Peralta: "Sir, I am Amy Santiago, and I have something to say, I think you're wrong. I think Peralta is onto something, and I think you should let him pursue it. I'm Amy Santiago, and I'm done talking." 
– On working the Wint case: "We're both off-roading it here. My internal GPS has been recalculating for a week." 
– Santiago gets nervous about winning the dance contest, even though they're undercover. Also, she says the word "dance" every time she takes a step. 
– She decides to sell her fake crying by shouting "Oh, god! I live to dance!"