'Bros' Premiere: An Answer to 'Girls'? — WATCH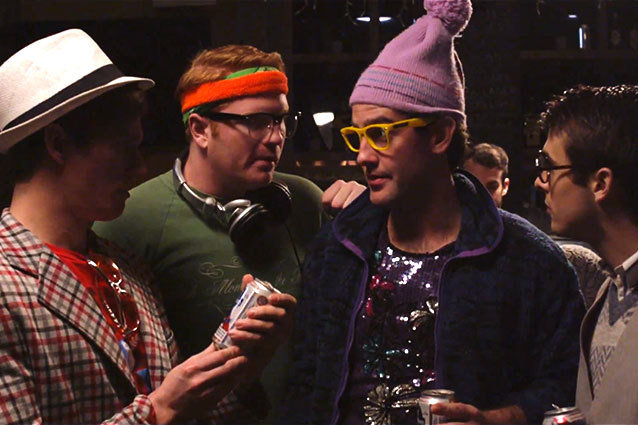 In its two seasons on air, Girls has earned as many detractors as it has fans, if not more. Lena Dunham's HBO program looks to speak for, and about, a generation. But aspiring filmmaker Anthony DiMieri seemed to feel as though the show wasn't effectively providing a voice for his demographic: Bros. And thus, we have Bros, DeMieri talked to Hollywood.com in February about his web series, which is partly a parody, partly a homage, and partly an animal all its own. But how does Bros stand on its own in the shadow of Girls?
It's unfair to expect an independent web series to reach the same level of gravitas embodied by a half-hour, studio-produced show. But Bros can't blame its backing on all of its flaws. Still, this isn't entirely a problem — you might not seek out Bros hoping for inspiration or invention. What you might in fact want from the show is what it gives you: a familiar, relatable (albeit exaggerated) bunch doing kooky things. The show's only real crime is in its apparent toleration of what these boys stand for (something of which Girls, despite many a criticism, is not guilty). The characters embrace a casual, "affable" homophobia, blurting out slurs to one another as a second language. But worse than this is the episode's depiction of its sole gay character as a creepy sexual predator, ultimately a villain. While the bros of Bros might realistically (and tragically) invest in their own bigotries, the show should be able to separate itself from that.
RELATED: 'Girls' Season 2 Finale Recap
And though we can't excuse these maladies, we might accept that they are not borne from maliciousness, or even ignorance, but instead from a failed attempt at delivering something real. Yes, there are people like this. And maybe Bros' only real folly is not separating itself enough from its characters: a cast made up of genuinely funny comic players who, with the right material (perhaps later episodes will prove more suitable for enlightened viewership) could shine. Yes, Bros has some problems to overcome, and some attitudes to rectify. But it also has some charms we might not want to ignore.
Watch the episode and decide for yourself — is Bros worth continuing to check out?
Follow Michael Arbeiter on Twitter @MichaelArbeiter
[Photo Credit: BroSeries/YouTube]
---
You Might Also Like:


Topanga's Revealing Lingerie Shoot: Hello '90s!


13 Most WTF Fan Tributes