Bruce Springsteen, Christina Aguilera, Jon Stewart, and More Shine On Hurricane Sandy Telethon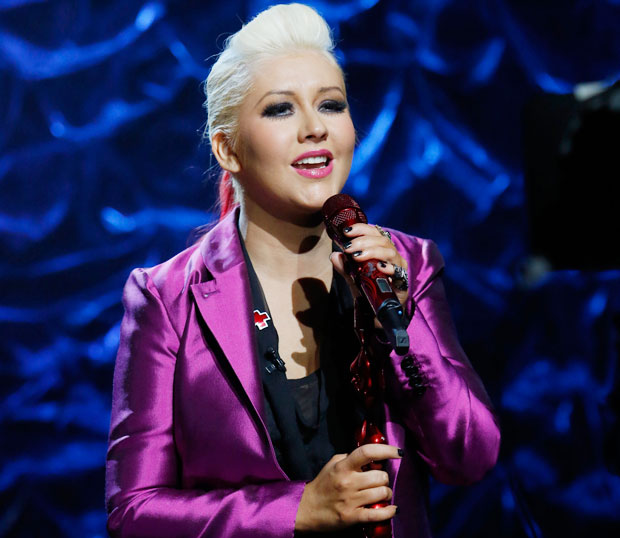 With New York and New Jersey still dealing with the devastating effects of Hurricane Sandy, the superstorm that pummeled the Northeast region earlier this week, some of the biggest names in music, movies, and television banded together to do their part to help and raise awareness and much-needed funds. 
On Friday night, NBC and its NBC Universal stations (including Bravo, CNBC, SyFy, and USA), as well as a live stream on NBC.com, broadcast 
Hurricane Sandy: Coming Together
on the East Coast at 8 PM ET, a telethon to help raise money for the American Red Cross during the ongoing relief efforts. 
Hosted by
Matt Lauer
, the hour-long broadcast was a decidedly somber event, marked by appearances by celebrities who hail from the very regions hit hardest by the storm. According to Lauer, Sandy has taken the lives of 94 people in the United States and damages and losses could cost the economy upwards of $50 billion. 
Case in point: 
Christina Aguilera
has probably sung her anthem "Beautiful" an incalculable amount of times, but it took on a whole new meaning for the star, a native of the ravaged Staten Island. She dedicated the song to all those suffering. The personal ties to New York and New Jersey had a visible impact on fellow performers like New Jersey hometown hero
Jon Bon Jovi
(who visited a shaken Sayreville and performed a touching mash-up of Bon Jovi hits "Who Says You Can't Go Home" and "Livin' On a Prayer") and
Mary J. Blige
, who originally hails from The Bronx was a last-minute addition to the line-up and gave an emotional performance of her song "The Living Proof." ("Things are gonna get better," she assured those struggling in Sandy's aftermath.)
Fellow Bronx native
Billy Joel
played the hauntingly fitting "Miami 2017" ("I've seen the lights go out on Broadway/I saw the Empire State laid low") and changed a few of the lyrics to fit the tragedies faced by Staten Island and Rockaway Beach. Both of those regions were highlighted in previously taped segments from Lauer,
Ann Curry
, and
Brian Williams
. While heartfelt appearances by the likes of
Tina Fey
(who wore a Fire Island tee shirt as a sign of support for another hit area),
Danny DeVito
,
Al Roker
,
Kevin Bacon
,
Whoopi Goldberg
, and
Sting
, who impressed with a soaring acoustic version of "Message in a Bottle," it was these images that likely had viewers texting (REDCROSS to 90999), calling (1-800-RED-CROSS), and signing up to donate and volunteer to the Red Cross. The tragic stories and images of people who lost everything was what truly resonated during the hour. 
That's not to say there wasn't some much-needed moments of levity or performances that inspired. Late night funny men
Jon Stewart
and
Jimmy Fallon
did their part to lighten the mood during the telethon. Stewart (who made a dig at NYC Mayor Michael Bloomberg's previous plans to have the city still host
the marathon
on Sunday) engaged in a comedy bit with Williams in which the news anchor "accidentally" read
The Daily Show
host's
cue card ("Growing up on the Jersey Shore as a short, Jewish kid…" he deadpanned) that was both genuinely funny and didn't by any means cheapen the overall tone or mood of the show. 
Fallon, on the other hand, may have seemed a little too overeager, but the
Late Night
host
did
have the once-in-a-lifetime opportunity to perform lead vocals on the nostalgic-heavy classic "Under the Boardwalk" with music legends that included Joel,
Aerosmith
's
Steven Tyler
(who performed "Dream On" with some members of his band later on), and The Boss himself, New Jersey royalty
Bruce Springsteen
. Springsteen, who is as synonymous with Jersey as the shore itself, put on a rousing performance of "Land of Hope and Dreams" with his E-Street Band. The spirit-rousing number was only topped by Springsteen's rally cry of "God bless the Jersey Shore." Indeed. 
What did you think of the telethon? You can still
(Celebuzz)