Bruno Mars Is Ready To Bring The Funny to 'SNL' This Weekend. Or Not.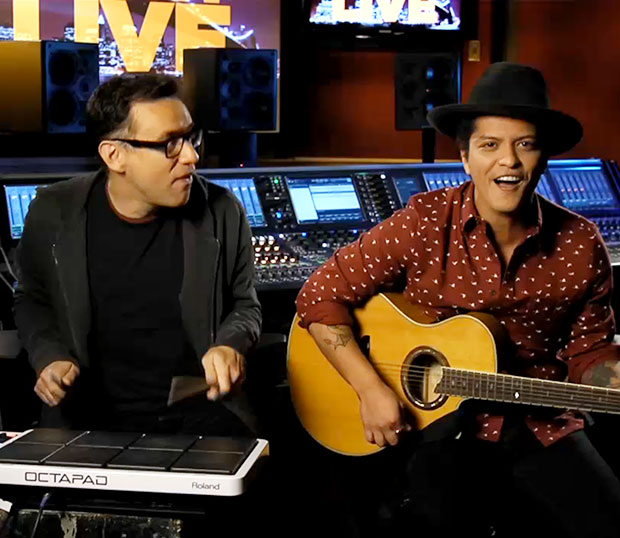 Bruno Mars is pulling double duty as both the host and musical guest on Saturday Night Live this weekend. There may be singing, there may be dancing, and there just may be some comedy in there, too. But who knows?!
Of course, since the "Locked Out Of Heaven" crooner is literally and figuratively a man of many hats (and, in the case of this week's SNL promo, so is Fred Armisen) you should probably expect all of the above. 
Watch the clip below in which the Grammy-winning star sings some tunes, inadvertently compliments Armisen, and flashes that famous billionaire smile. 
Surprisingly funny, right? Mars doesn't seem to think so, as the 27-year-old — who described the opportunity to also host SNL as "a dream" come true (a rare title only held by a few other musicians, including Mick Jagger, Britney Spears, and Justin Timberlake) — told NBC Universal in a backstage interview. The pop star joked, "I'm not going to be funny…it's going to be something new they're trying at SNL."
Don't worry, Bruno. After a week that included pure comedy gold like Mitt Romney's women binders and A-Rod's post-season blunders, there should be plenty of material for you and SNL to bring the funny on. 
[Photo credit: NBC] 
More: 
Bruno Mars Named As Upcoming SNL Host 
SNL Recap: Christina Applegate Gave Her All, Usain Bolt Grabbed the Comedy Baton
Celeb and TV stories: From Our Partners:

Justin Timberlake and Jessica Biel Celebrate Wedding Weekend in Italy — PHOTOS
(Celebuzz)

'Hunger Games' Stars Jennifer Lawrence, Josh Hutcherson Pose With Fans at Atlanta Movie Theater — PHOTOS
(Celebuzz)