Bryan Cranston Returning To Comedy on 'How I Met Your Mother'? Yes!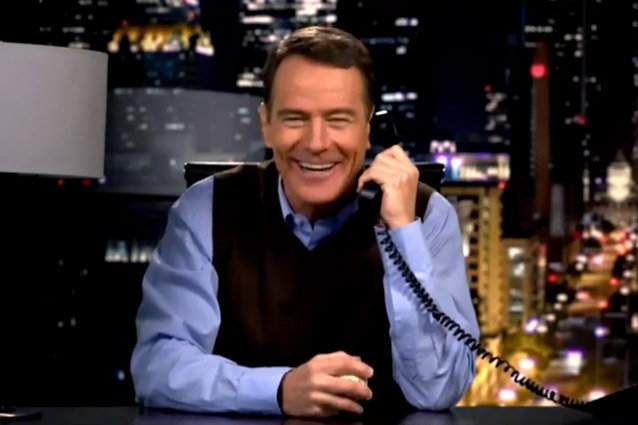 CBS
Listen, I know many people have been having Breaking Bad withdrawal symptoms. I know I have: Sunday nights just don't feel right. That's why it was such a relief to hear that Bryan Cranston would be making an appearance on How I Met Your Mother. He'll be reprising the role of Hammond Druthers that he played before that whole blue meth cook role took off. Actually, given how ruthless Druthers was towards Josh Radnor's Ted Mosby and his co-workers, he probably would have partnered with Walter White. It's still going to be really interesting to see him return to comedy.
It's been fun seeing people cross back on to network television after an extended stay. Betsy Brandt, Cranston's fellow Breaking Bad castmate, is on The Michael J. Fox Show, Dean Norris was in a mini-series in between seasons and Aaron Staton from Mad Men recently appeared on Person of Interest. It feels like they are back among the regular folk after being on higher fare on cable. It's almost like an Easter Egg: "Hey, I've seen that actor on another show!"
With Cranston, people forget that he was so good as the befuddled father on Malcolm in the Middle before taking his iconic role. When Breaking Bad first came out, people were saying, "Malcom's dad is a chemistry teacher who is going to be selling meth?" I think Cranston is making this pit stop in comedy to shed the moral weight and weariness that playing White must have felt, especially with his transformation from a man who was trying to do what he could for his family to an almost inhuman monster that didn't care who or what got in his path.
Cranston is one of those actors who can slip into whatever role he wants to play seemingly quite effortlessly and he's definitely not going to find his comedic timing off when he's on How I Met Your Mother. It wouldn't be surprising if the show got really good numbers because of Breaking Bad fans also tuning in.
Of course, it would be great if the How I Met Your Mother writers somehow worked White's "I. Am. The. Danger." quote in there  just to appease us Breaking Bad addicts. If that happened, the television would probably just explode from awesomeness, as it should. Welcome back to comedy, Mr. Cranston, however short the stay may be.