'Bunheads' Siblings Sutton Foster and Hunter Foster Bond On Screen and Off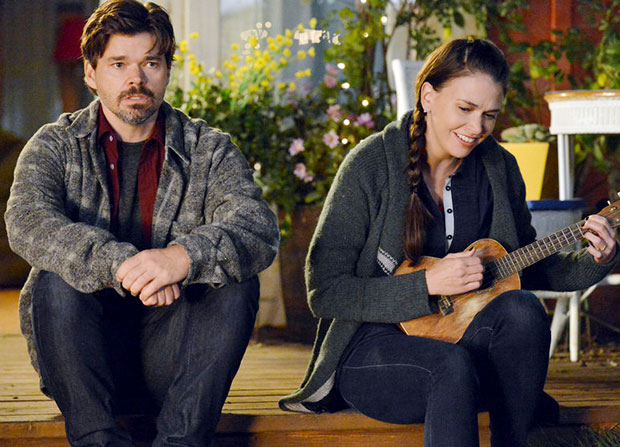 Playing siblings on Bunheads came easily to Sutton and Hunter Foster, considering they actually are brother and sister. But Hunter's guest arc on Sutton's ABC Family dramedy, which kicks off Monday, Jan. 28, marks the first time the two Broadway stars have played siblings.
The Fosters told Hollywood.com during a visit to the show's Los Angeles set that they've worked together in the past, but only for brief periods of time. Notably, both were in the same Broadway production of Grease for three weeks, where Sutton played Sandy and Hunter played Roger — but he was understudying for Danny. That's right: major ew potential.
"The problem with the guy who was playing Danny [is that he was] constantly sick. He always got sick," Hunter said.
Added Sutton, "One of the producers was like, 'Okay, so could you go with your sister?' And I'm like, 'Absolutely not.' That would have been really, really bad. But no, we never had to. That never happened. So [Bunheads] is our first time ever really acting with one another."
It's an interesting experience to act with a sibling, Sutton noted. "We were doing this big scene [where] we have a fight on the show. We were acting, and I was like, 'I don't think I've ever looked at you so much in my life.' I don't think I've ever looked at his eyeballs as much as I have in the past two weeks. But it's been really, really fun.'"
The inherent familiarity of acting alongside your real-life sibling adds a lot to the character, because you "bring all your crap," according to Sutton. Explained Hunter, "A lot of the time you're meeting people for the first time, and then you're thrown together and you're supposed to have history with each other, and it's so fast. I think what's been beneficial is the fact that we already have history. And I'm staying at her house here in L.A., so we're sort of living together off screen and on screen — I'm crashing at her place in Paradise [on the show] and I'm crashing at her place in L.A. [in real life]."
On the show, Hunter's "chronic divorcee" character, Scotty, arrives in Paradise after failed marriage number four. "I fall in love easily. I get married; I get divorced. And then every time I show up on her doorstep," Hunter said. "So again, I show up on her doorstep and I crash her place — and immediately start looking for wife number five."
Aside from the physical resemblance, Scotty and Michelle are very similar in personality, too. "I feel like in many ways our characters are the male and female version of each other. Like, he's the male version of Michelle — he's the hot mess. He's a total lone ranger. He's not settled at all. We're both still flailing quite a bit."
Bunheads airs Monday nights at 9 p.m. on ABC Family.
Follow Jean on Twitter @hijean
[PHOTO CREDIT: Eric McCandless/ABC Family]
More:
'Bunheads' Casts Sutton Foster's Mother — EXCLUSIVE
'Bunheads' Star Sutton Foster Talks 'Gilmore Girls' Comparisons
ABC Family Keeps 'Bunheads,' Cancels 'Jane By Design'

20 Hottest Celebrity Bikini Bodies