'Burn Notice' Finale Didn't Torch Fans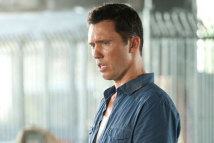 BURN NOTICE — "Desperate Measures" — Pictured: Jeffrery Donovan as Michael Westen — (Photo by Glenn Watson/USA It's been a while since Burn Notice ended its run at seven seasons and I'm still digesting what happened. Be warned though, I'm going to go into spoiler-heavy details, so if you haven't seen the episode, stop now, watch it and then come back. I'll be here. I'm serious. Shoo. OK. You good now? I'll continue.
I disliked how this season had gone in terms of plot, what with them straying away from the formula of Michael Westen and his crew helping out people in trouble. Heck, they had even stopped doing the captions like "Steve Austin… The Bad Guy." Instead, they had Westen go undercover and into a very deep, dark place.
The show attempted to redeem itself very quickly in this episode, with Westen snapping back to his normal self very quickly and reuniting with his crew, Fiona Glenanne, Sam Axe and Jesse Porter and got them figuring out how to extricate themselves from the mess they were in: both the CIA and a terrorist organization after them.
There were some emotional moments. The most touching part was the goodbye call between Westen and his mother, Maddie, who was about to sacrifice herself to give him a chance against his nemesis, James Kendrick, the terrorist leader. It was a redemption of sorts for Maddie, who had let both Westen and his brother, Nate, be abused by their father growing up, Despite my dislike of how the season had gone, I found my living room to be very dusty, despite my having vacuumed earlier. Sharon Gless, Jeffrey Donovan and Coby Bell all handled those scenes really well.
The writers also made callbacks to some of the more famous lines from the show, with Bruce Campbell's Axe saying his "spies are a bunch of b—-y girls" and Fiona sort of reprising his opening line: "My name is Michael Westen. I used to be a spy" which is total fan service, but it worked.
Did it redeem itself? For a little bit towards the end, it looked like the nuclear option had been chosen, but Westen and Glenanne avoided death and wound up together in a new place to raise Westen's nephew. The groundwork for a possible spin-off with Axe and Porter was also laid (do it, USA Network. do it).
It was a definitive end and not a happy one for everyone, but it wasn't one that Matt Nix, the show's creator should be ashamed of.
More:
Pop Reinventions Gone Wrong
How 'Dawson's Creek' Bred A Generation Of Sappy Girls
Best To Worst: Sugababes Line-ups
---
From Our Partners:


40 Most Revealing See-Through Red Carpet Looks (Vh1)


15 Stars Share Secrets of their Sex Lives (Celebuzz)