'Idol' Dreams Dashed Already? Burnell Taylor Says He Won't Win — A Girl Will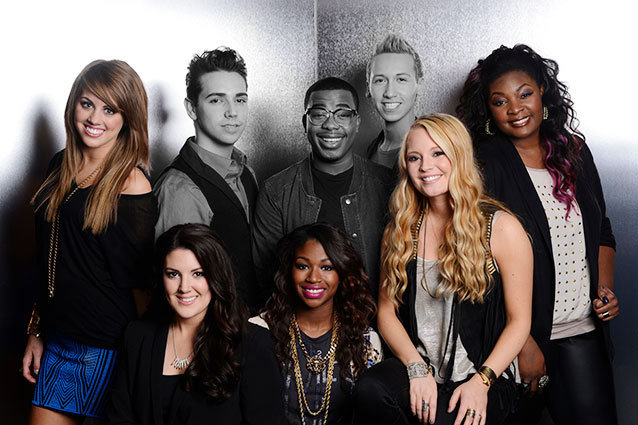 Can a girl win American Idol? The answer is "yes," if you ask the men in the Top 8. As it turns out, American Idol producers may really get their wish after pushing for a girl all season. 
RELATED: Can a Girl Win 'American Idol'?
After his sub-par group performance with Devin Velez and Lazaro Arbos (the one that made Nicki Minaj so angry, she chastized them like they were her own children), Burnell Taylor spoke with Hollywood.com about his ambitions in the competition. "I'm being totally honest because I'm 100 percent real: my goal is to win but it's pretty obvious that a girl is going to win," says Taylor. But the singer with whom Minaj offered to duet isn't disappointed about what he sees as a surefire outcome for Season 12. "A girl hasn't won in a long time. I wouldn't mind if a girl wins, so long as I'm standing next to her," he says.
And while Taylor surely seems to be right, the top performances Wednesday night were mostly from women, it's a bit strange that he's so candid about knowing this early on that he's not going to earn a confetti shower at the end. But he's not alone. Velez is even more certain that he's not going to be the last singer standing.
RELATED: The 'Idol' Top 10 Take on Motown Classics
"I want to move to the next round but I am not going to say that I want to be Number 1. Next week's theme will be fun, so I hope that it pays off," says Velez. Still, he joined a singing competition and he clearly loves to sing. Why wouldn't he want to win something like Idol? "I think it's a lot of responsibility and it gets complicated and you get tied down and I want to fly," he adds.
All this talk of realistic expectations and even acceptance of one's inability to win is a little strange. Idol is a show built on dreams, however unrealistic. It's a place that continues to give Arbos a shot because his courage through adversity demands it, even if his vocals aren't up to par. It's a show that lives and breathes on the belief that anyone of these contestants can pull ahead in the competition at any moment, however rare that possibility actually is. 
RELATED: Top 'Idol' Guys Know Their Performance Was Awful
Velez's and Taylor's assertions that they're simply not this season's winners is disheartening, Velez's probably more so than Taylor's. To say that you don't even want to win is almost insulting, and let's not forget what happened to Mario Vazquez in Season 4 when he flat out quit early on in the competition on the grounds that he could do just as well as someone who made it to the finals. (Nothing. Nothing happened for Vazquez.) Velez isn't about to quit, but it's strange that his attitude already has.
Taylor's support of the ladies is admirable, but it does lend a feeling of predictability to the competition. If the contestants already know who's going to win, how can we find any drama or surprise in their future performances?
Reporting by Jean Bentley
Follow Kelsea and Jean on Twitter @KelseaStahler and @Hijean
[Photo Credit: Michael Becker/Fox]
---
You Might Also Like:


Topanga's Revealing Lingerie Shoot: Hello '90s!


13 Most WTF Fan Tributes