Cable Dominates Emmys Nominations: This is The Year of the Small, But Mighty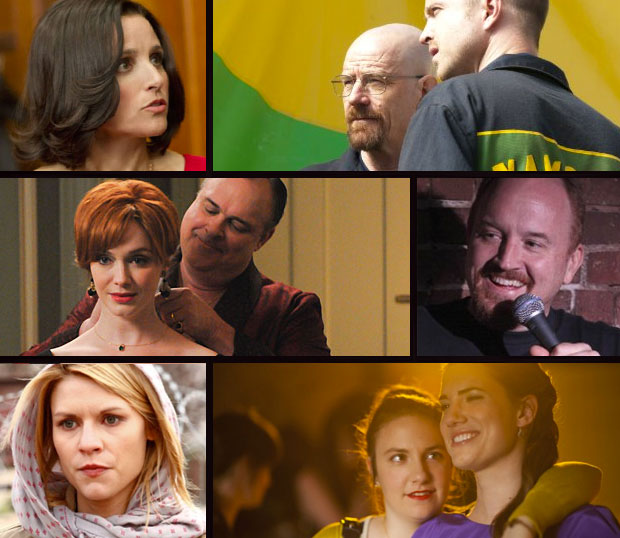 Perhaps there no such thing as an underdog anymore. At least when it comes to the Emmys, where the little guys may just be the big winners.
There was a time, mostly before 2007, when the Academy of Television Arts & Science's de facto honorees were largely the feathers in the networks' blanket programming caps. But around the mid-2000s, television began to shift, and we found that seriously quality programming could be found in a land that was once a playground for censored cuts of Bad Boys and old episodes of Buffy The Vampire Slayer: cable.
In 2007, Damages and Mad Men became the first basic cable series to be nominated for the Best Drama Series Emmy, throwing FX and AMC into the ring with pay-cable heavyweights HBO and Showtime. At the time, it may have seemed like a fluke, but in reality both nominations were the opening of a door that's now overcrowded with worthy candidates pushing their way through to Emmy's golden-winged glory. Where yearly shoo-ins of the pre-2007 Emmys were largely network shows with a smattering of HBO (which isn't even claiming to be TV, if we're to take their long-lived catchphrase seriously), the definites are now the likes of AMC's Breaking Bad, Bryan Cranston, and Showtime's Homeland.
And for good reason. According to Richard Dubin, producer/writer/director, current professor at Syracuse University's Newhouse School, and member, voter, and finals judge for the Academy of Television Arts and Sciences, cable is simply a more viable environment for drama. Regarding cable taking over the drama category, Dubin says, "I'm not surprised. The stuff that happens on cable is richer and therefore a better audience experience." It's because of the lack of layers in the cable process, he adds, "that creators have the chance to get much closer to a singular vision than they would in a network environment."
Even so, cable isn't swallowing the big four whole in every category (networks are largely out of luck in the drama series category). But it is making a serious dent in what used to be a network oligarchy. There are still holdouts: Jim Parsons is a Lead Comedy Actor nominee for life, as is Alec Baldwin. Tina Fey and Julianna Marguilies are stalwarts on the Best Actress front. However, a quick look at this year's Best Drama Series category is all the evidence we need that we're in the thick of a new realm of television. With six nominations available, not even The Good Wife managed to eke out a spot.
However, not every category is as monopolized as Best Drama Series. Where the still heavily network-dominated comedy categories are concerned, lower rated shows like Girls and Veep surprised us all when they nabbed their shining moments and filled the comedy cable and smaller series void. Even cult hit Community, which many thought would never cross the Emmys threshold, managed to garner a Comedy Writing nomination for the first time in its history alongside lower-rated critic favorites Parks and Recreation, Girls, and Louie. And with this landscape of possible winners in comedy and drama, this really could be Emmy's year of the small, but mighty winners. Unless of course, Modern Family gobbles everyone up… yet again.
But why now? What's changed? Are the Emmy voters spending too much time on Tumblr, where NBC's Thursday night comedies and niche hits like Louie and Girls rule with the power of GIFs and screen grabs? Or is it simply that, like the hippest of New York neighborhoods, the landscape is simply peppered with an overwhelming landscape of top-notch choices?
In addition to Dubin's notion that creatively, cable's opportunity for series to maintain "a singularity of vision" is what brings so many upper-channel series into the game, there is another piece of the puzzle. Lower ratings may not be a great of an indication of series' potential for awards, because there are simply so many players sharing the field. Parks and Recreation producer and writer, Emmy-winner Daniel Goor, posits that the wealth of players may be the reason behind the shift from what used to be a largely big network series ballgame.
"Television is becoming more and more fragmented …. Almost every show has fewer viewers than in the past," he says, noting that when it originally aired, I Love Lucy enjoyed a high of a 67.3 share in the ratings. (To put that into perspective, at the height of Ashton Kutcher insanity, Two and a Half Men was enjoying only a 17-19 share.) "Can you imagine? 67.3! Two thirds of televisions were tuned in. It's crazy. There's too much [programming]. The Super Bowl doesn't even get that."
The sheer volume combined with the issue of "sampling" may be what's delivering winners and nominees with relatively tiny audiences – even pop culture explosion Mad Men only pulled in 2.7 million ratings on its highest-rated season finale ever. "The people who are voting are the people who are watching our show," says Goor. "So while on an absolute scale [Parks and Recreation] numbers may not be huge, I think there may be an overlap in the people who are watching our show and 30 Rock and Raising Hope or any of those shows that may not have huge overall numbers."
But the result is an effect not unlike that of the Oscar nominations: nominees are far flung from each other with audiences sure to be dwarfed by the number of viewers tuning into the Emmys broadcast itself. And while talk of the Emmys going the way of the Oscars (which could imply lower ratings in light of niche nominations) may worry ABC and its advertisers, it's a healthy, validating trend for the creators of television, who are supposed to be the ones benefitting from the ceremony in the first place.
The Emmys are giving the little guys a voice, and perhaps a window to larger audiences and better standing with the networks come renewal time. Just look at Parks, which fared slightly better than its Thursday night companions, 30 Rock and Community, and nabbed a full season order while the other two were relegated to a shortened final season and a half season airing on Friday nights, respectively. Likewise, 30 Rock experienced a jump from its average of 5.8 million viewers in Season 1, to 6.5 and 7.5 million in Season 2 and Season 3 in the wake of the series' Emmy nods for Fey and Baldwin, and the win in the Best Comedy Series category in 2007. Over at AMC, regular Emmy shoo-in Breaking Bad is climbing the ratings ranks, securing the title for the highest season rating growth percentage after it improved a whopping 24 percent in Season 4. But as a caveat, most of these series' Emmy wins were coupled with other media exposure like Fey's Sarah Palin impression and every television writer singing Breaking Bad's praises as often as their editors would allow.
So what could this mean for this year's nominees like Veep and Homeland? While garnering the attention of Emmy voters isn't going to necessarily sky-rocket smaller rated series to instant Big Bang Theory status, the benefit is exposure. "Those series have a smaller universe of viewers to begin with, so any exposure they get is potential for marginal improvement, and that margin is bigger since the audience is smaller," says Dubin. But overall Dubin doesn't see much material benefit of "awards in general," including the Oscars. "They're a promotional kind of thing for the industry in general and people like them," he says. (And keep in mind, this is coming from a man who's voted for Emmys and been nominated for them.)
So if the material benefits are only "marginal" and Dubin posits that "the networks don't care" that they're being shut out because "Emmys don't put people in the seats," what's the real benefit of small series getting big nominations other than a well-deserved (on undeserved, depending on your position) gold star? It's fun for we, the people. For fans of the underdogs, the Emmys represent a chance to play the equivalent of fantasy baseball with our creature comforts. And just ask any Red Sox fan about the 2004 World Series: the feeling is so much more exhilarating when the odds are stacked against the victor.
And with that, let the Emmys season begin; let the theories and betting begin; and may the best (and quite possibly smaller) series win!
Follow Kelsea on Twitter @KelseaStahler.
More:
Facepalm! 15 Fantastic Actors Who've Never Been Nominated For an Emmy
Alec Baldwin, Julianna Margulies and More on Their 2012 Emmy Nominations