Carol Burnett to Guest Star on 'Glee' as Sue Sylvester's Mom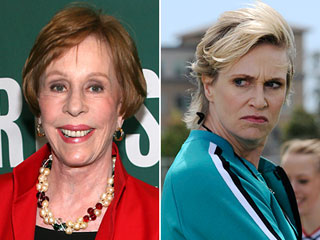 Can you believe Glee has only been around for one season?  For all I've heard about the show, it's easy to forget that the soon-to-be Emmy Award-winning program only debuted last September.  Creator Ryan Murphy must be thrilled with the show's massive fan base, which has exploded in less than a year and extends well beyond its teenage target demographic.  Even stars like Paul McCartney and Lady Gaga have professed their love for the musical comedy-drama.
And the celebrity love for 'Glee' continues: we hear today that six-time Emmy Award-winning actress Carol Burnett has signed on to guest star as Sue Sylvester's (Jane Lynch) mom in the upcoming season.  We already know that Sue's parents were Nazi-hunters who would leave their daughters at home when they went off on adventures, but when Burnett's episode(s) air in October or November, we'll learn even more about the elder Mrs. Lynch, who undoubtably has more secrets (and mother-daughter duets?) to reveal.  While the circumstances of her character's arrival are being kept under wraps, Entertainment Weekly reports that Sue's father will not be present.
Burnett joins an ever-growing roster of celebrity guests who are set to appear in the second season.  John Stamos, Kristin Chenoweth, Idina Menzel, Javier Bardem, and (possibly) Paul McCartney are just some of the stars who are aligning to make Glee's upcoming season even bigger than its first.
The second season of Glee premieres this fall on Fox.
Source: Entertainment Weekly
Image: Sylvain Gaboury/PR Photos; Michael Yarish/Fox