Cast of 'Community' Hold Adorable Kittens Because: Internet — VIDEO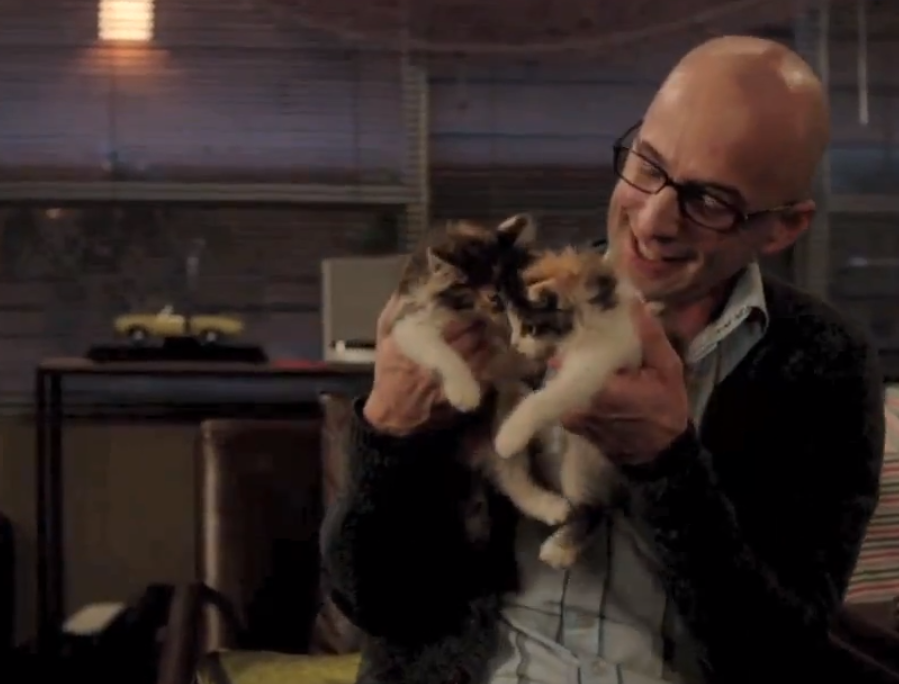 Well this is certainly a meme waiting to happen: Hey Dean! What's cuter? A Jeffrey or a kitten? What about a kitten named Jeffrey? How about two kittens named Jeffrey? If all of that sounds like a good time to you, then sit right down and take a look at the newest sneak peek video your friends at Greendale Community College have nestled under the tree/menorah/Festivus pole for your general holiday enjoyment!
That's right…it's kittens! Community star and apple of Dean Pelton's eye Joel McHale opens up a clip that introduces us to the furriest, newest members of the Greendale family: August, James, Fiona, and two calicos named Jeffrey! (Sidenote: can someone please tell Señor Chang the difference between a cat and a dog? Please? The humanity of it all.) Unfortunately that's all you get in this short-but-sweet clip from the upcoming season, but it sure is enough to ensure the Internet celebrates the holiday season. Because YouTube videos + kittens + Community = everything the Internet loves, ever. Press play (and then replay over and over and over again) on the clip to see for yourself, below.
For our forgetful friends in the audience, the new season of Community returns to NBC October 19th February 7th, 2013. We're really glad we included the year.
Overcome by animal cuteness? Excited for the upcoming season of Community? Sound off in the comments!
[Photo Credit: NBC]
Follow Alicia on Twitter @alicialutes
More:
Community' Season 4: The Year of Lasers and Unicorn Men! (So, Toning It Down?) — PICS
'Community' Cast Spoofs Season 4's Delayed Debut on 'Troy & Abed In the Morning'—Video
Lookin' Good, 'Community': Joel McHale's Funniest Excuses for Shirtlessness

20 Hot (and Horrifying) Movie Sex Scenes