Who Should Be on Season 2 of 'RuPaul's Drag Race: All Stars'?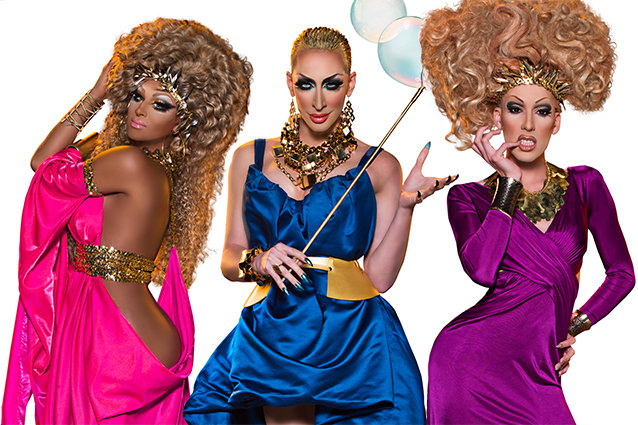 Logo TV
Gird your loins, drag lovers! RuPaul revealed on Watch What Happens Live that there will be a second season of RuPaul's Drag Race: All-Stars. So who will be the lucky drag divas to get a second chance at the coveted crown? Last season featured a major twist — the girls play as teams. It's entertaining but some fan faves get eliminated early while others get to ride the coattails of their more successful teammates. This new season should bring back girls who have major beef and let the fur fly. There is potential to have them work as teams or have to compete in similar challenges. Maybe they both have to make the same type of outfit or play the same role. It's also a good opportunity to bring back girls who have shady television personas. Do they have a softer side?
Rebecca Glasscock
Rebecca is the first queen accused of relying on her looks. She was a frontrunner of her season until she managed to alienate all of the remaining girls. She is infamous in Drag Race history and it would be nice to see her after all these years. The queens from Season 1 deserve a crack at the Drag Race that we have come to know and love. It also would be interesting to see how Rebecca does against other fishy queens.
Jade Sontamayor
Jade is one of the hottest queens in the show's history, both in and out of drag. Her dance background makes her a contender for the music and talent challenges. Plus her body is amazing. She is sweet and well liked by the girls on her season. She also has a legendary beef with Rebecca that might make for some Real Housewives-level drama.
Tatianna
Tatianna is one of the fishiest queens of the entire franchise. There is a ton of friction between her and the other queens of her season. She is the first queen to be accused of relying on her looks and gets teased for her love of Britney Spears. She is a stunning performer. She won the first ever Snatch Game challenge and there is a ton of potential growth in the past few years. She also has the sex appeal, humor, and sharp tooth to be a major contender to win.
Morgan McMichaels
Morgan is often eclipsed by Raven the Susan Lucci of Drag Race. The two are best friends but Morgan is a majorly polished queen and a real contender to win. Certain missteps in her season kept her from showcasing her humor and amazing looks. She also did seem to be a bit cliquish and picked on queens like Mystique and Tatianna. However, her lip-synching performances off the show are legendary.
PhiPhi O'Hara
PhiPhi is like Helen of Troy. She's beautiful and has the shade that launched a thousand ships. Her generally combative relationship with the other queens is a major reason behind her not winning her season. She has the distinction of assassinating her career on television. In her defense, she's cute and young. She deserves a second chance to introduce America to a softer side. If not, she can provide some Omarosa-like tension to the season.
Roxxxy Andrews
Not to blame PhiPhi for more things, but she is a little responsible for the harsh reply to Roxxxy Andrews. Roxxy has a bit of an edge. Her slightly combative relationship with future winner Jinkx Monsoon echoed the friction between PhiPhi and winner Sharon Needles. Roxxxy is really stunning and was an amazing performer. However, Season 5 did seem to be very performance based and allowed queens like Jinkx and Alaska to slide right into the finale. Roxxxy never had an issue with her outfits and is an accomplished. She is the only queen to take off her wig to reveal another wig! She deserves a chance at the crown without seeming like a bully.
Detox
It's odd that Detox's off-screen performances outshine her time on the show. She performs amazingly hilarious songs with Willam and Vicky Vox. She showed up to the reunion in black & white realness. She is the least outspoken member of Rulaskatox. Roxxxy is the most polished and Alaska is the funniest. And yet, Detox is the best of both worlds. She can be fabulous or funny.
Alaska
Alaska has it all. She's funny, uniquely beautiful, and the perfect blend of polished and punk rock. She has the reputation for auditioning for every season of Drag Race. If she returns to the show she can step out of Sharon Needles shadow and showcase her unique approach to drag. After all, she has her own bow-legged walk. She does have the makings of an all-star.
It's unclear who will be open to return for All-Stars Season 2. Raven may return to try and get the crown. Ivy Winters is Ms. Congeniality of her season so she is bound to return. Here's hoping Coco Montrese and Alyssa Edwards skip this season. Their on-again/off-again feud is like a 5-year-old after a day at Disneyland… tired. There is also a whole mess of season six queens who will make an appearance. These are our picks who do you think should be on the next season of All-Stars?