'Castle' Celebrates 100th Episode With 'Rear Window' Homage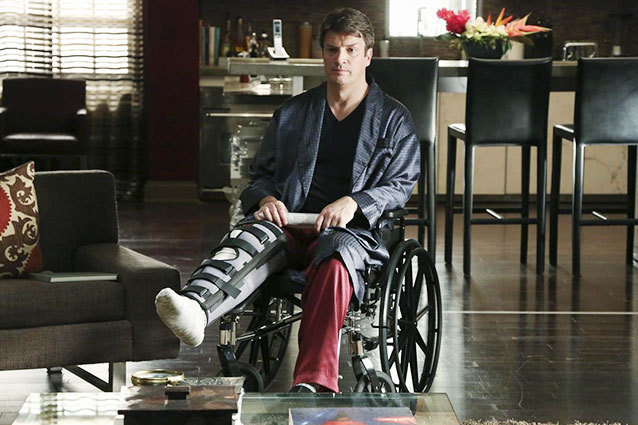 When Castle debuted in 2009, its cutesy take on the typical cop procedural was a little more grating than refreshing. Popular crime writer Richard Castle (Nathan Fillion) embedded with (read: annoyed) a team of homicide detectives to research his next novel, and the womanizing, smartass author clashed with lead detective Kate Beckett (Stana Katic), leading to plenty of opposites-attract chemistry and snappy comebacks.
RELATED: 'Scandal' Star on Her 'Castle' Return
But somehow, a few episodes in, the pop culture-infused dramedy (leaning heavily toward the -edy part of the equation) gelled together, with just the right balance of tongue-in-cheek skewering of celebrity obsession, a legitimately creepy murder mystery surrounding the death of Beckett's mother, and a natural chemistry between the regular cast members (obvious sexual tension between Beckett and Castle overshadowing the heartwarming friendships between the supporting characters). Fillion's effortless charm probably had much to do with that, as fans of his quirky leading man from Joss Whedon's short-lived "space Western" Firefly followed him to the new series.
Now, 100 episodes later, Castle and Beckett are dating, Fillion continues to winkingly reference his Firefly past (much to the delight of fans), and the tone alternates between cutesy and serious in a not-at-all jarring way. A few weeks ago, a team member went undercover with the Irish mob for a very somber installment. But just two weeks later, the milestone 100th episode, "The Lives of Others," features one of the show's trademark pop culture-centric plots as Castle, laid up with a broken leg from a skiing accident, gets Hitchcockian as he spies on his neighbors, Rear Window-style, thinking he's witnessed a murder.
RELATED: 'Castle' Finale: Beckett Finally Reveals Her Feelings
Has he? Clearly you'll have to tune in to find out. But what we can tell you going in is that it's a perfect example of the pop culture homage Castle does so well (in recent years, the show has taken on everything from Dancing With the Stars to the Real Housewives franchise — not to mention steampunks, Ghost Hunters, and Comic-Con culture). There are a few great Castle/Alexis moments, but an even better Castle/Beckett one at the end. Just wait for it!
Castle airs Monday nights at 10 PM on ABC.
Were you a fan of Castle from the start, or did it take a few episodes for you to warm up to it?
Follow Jean on Twitter @hijean
[Photo Credit: Richard Cartwright/ABC]
---
You Might Also Like:


Topanga's Revealing Lingerie Shoot: Hello '90s!


13 Most WTF Fan Tributes