'Castle' Guest Star Darby Stanchfield on Meredith's Return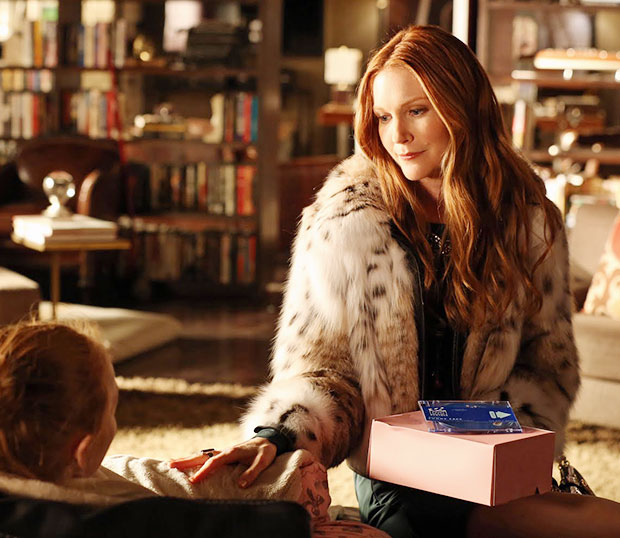 Season 5 of Castle has already thrown several small obstacles in the way of Castle and Beckett's newfound couplehood, but a bigger wrench is about to be thrown in the gears of their domestic bliss: the return of Meredith, a.k.a. Castle's ex-wife and Alexis' mother, played by Scandal star Darby Stanchfield.
Hollywood.com spoke with Stanchfield ahead of Meredith's comeback in the mid-season premiere, "Significant Others" (airing Monday, Jan. 7 at 10:01 p.m. on ABC), and she promised plenty of drama. Meredith will make herself at home in Castle's apartment when she comes back to take care of a sick Alexis; meanwhile, Beckett is also staying in the loft while her apartment is being fumigated. Needless to say, not everybody will get along in this full house.
"Meredith stirs up a lot of trouble. The world's her oyster; she kind of gets what she wants," Stanchfield says. "She comes there with a full agenda, and by the time she leaves a whole 'nother can of worms is opened."
Yes, Meredith and Kate will clash. "You get some Meredith/Beckett scenes — some substantial ones — so that's going to be fun. It's a little unpredictable," Stanchfield says.
But those conflicts will lead to some hilarious conversations between Castle and Beckett, so it'll all be worth it. "Of course, you get a lot of Beckett/Castle at work talking about the ex being at home which is just really funny stuff," Stanchfield promises. "There's some Martha stuff too. Martha and Meredith have never liked each other and I just think that's a riot."
Just because Meredith won't get along with everyone doesn't mean she won't get what she wants out of her visit. "Meredith's a really smart woman and she plays ditzy. She's an actress and she acts up a storm, but she fully knows what's going on. She doesn't care if she's welcome or not," Stanchfield explains. "She has her own agenda, and even though she cheated on Castle years ago she made it out to be a win for herself. She's going to win regardless of the situation because that's just the way she rolls." 
Castle airs Monday nights at 10 p.m. on ABC.
Follow Jean on Twitter @hijean
[PHOTO CREDIT: Carol Kaelson/ABC]
More:
TCA: 'Up All Night' Shakeup 'A Bit of An Experiment'
TCA: 'Celebrity Apprentice All Stars' Is Going to Be Insane
TCA: 'Workaholics' Seasons 4 and 5, 'Drunk History' Headed to Comedy Central

20 Hottest Bikini Bodies of 2012: Katy Perry, Miley and More!