'Castle' Season 5 Finale: Will Caskett Make it to Season 6?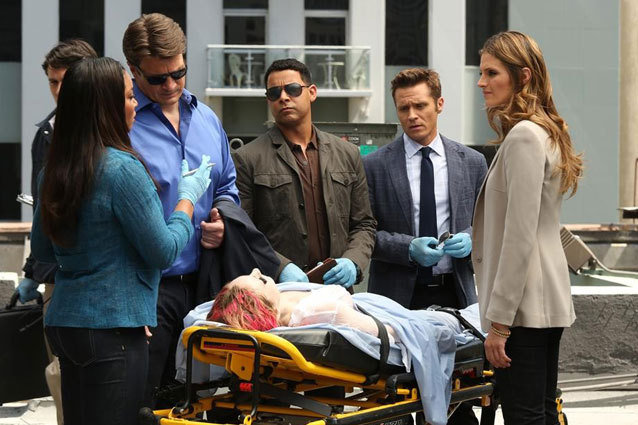 Be honest: Throughout the entire Castle Season 5 finale, you thought your favorite TV couple, crime novelist Richard Castle (Nathan Fillion) and his police detective girlfriend Kate Beckett (Stana Katic), were headed for an epic, messy, heart-wrenching breakup. When Beckett got a life-changing job offer in Washington, D.C., the New York-based couple couldn't possibly make it through. But the final two minutes of the episode changed everything — in a good way.
Castle had been mad that Beckett kept her good news a secret, causing him to completely reassess their relationship. Although it was a long time coming, once the pair got together in the Season 4 finale, it was pretty easy going. Keeping their relationship secret was their only major issue. We couldn't possibly go through an entire season of bliss, could we?
In the final moments of the episode, Beckett and Castle had their fateful conversation. He was upset she still kept so many secrets from him, but he'd accepted that personality quirk. "It's who you are. You don't let people in. They have to scratch and claw at every inch," he said. "We both deserve more."
But — fooled ya! It wasn't that he wanted to break up, it was that he wanted to commit forever. Castle got down on one knee and proposed, and the screen went black as he held up a shiny diamond ring. Castle and Beckett ENGAGED?!
Of course, we'll have to wait until Season 6 premieres in the fall to find out her answer, but there's no way she'll turn him down. As far as cliffhangers go, this one's thrilling but not the most suspenseful. She's got to say yes, right?
Were you shocked at Castle's proposal? Did you think Caskett were gonna break up? Do you think there's any way she'll say anything but yes?
More:
'Castle' Season Finale May Tear Castle and Beckett Apart
100th Episode of 'Castle' Pays Tribute to 'Rear Window'
Boston Marathon Bombing Forces 'Castle' to Reschedule Ep
Follow Jean on Twitter @hijean
---
From Our Partners:


Watch Justin Bieber Attacked in Dubai (Celebuzz)


33 Child Stars: Where Are They Now? (Celebuzz)