'Catfish' Red Flag of the Week: No Cell Phone? Definitely a Problem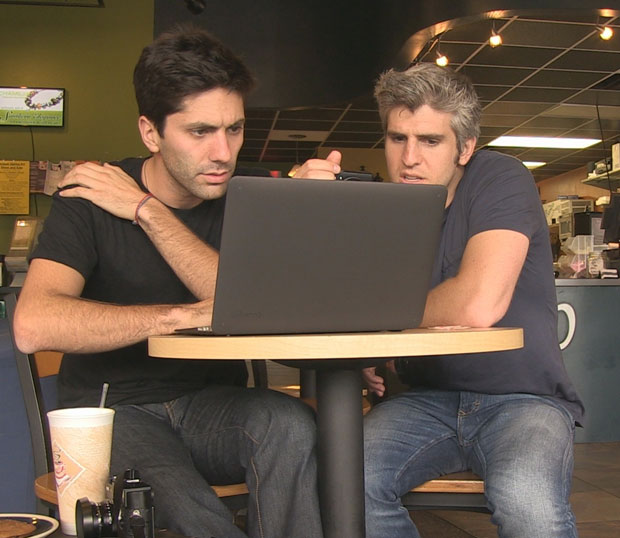 How many college students do you know without a cell phone? None, probably. That's not even the first red flag Monday's Catfish subject, Tyler, should've seen when he began talking to coed Amanda online. They spent two years corresponding via Facebook chat until he enlisted the help of Nev, Max, and MTV to figure out if she was the real deal. Spoiler: She wasn't.
As with most of the reality show's hopelessly romantic subjects, Tyler wanted so badly for Amanda to be real that he ignored the fact that literally no twentysomething party girl would pick "cell phone" as the modern luxury to do without during times of financial difficulties. He even sent her some, ahem, intimate shots of himself when their chats got dirty. As the sage Max noted, let's hope Tyler's face wasn't in them. (Lesson for all the kids out there, and also the celebrities whose phones seem to keep getting hacked: Don't include your face in the nude selfies you pose for in front of your full-length mirror when you're bored. It'll always come back to bite you in the end.)
One of Tyler's friends maintained the entire time that he thought it was actually a dude, and guess what? He was right. Amanda turned out to be Aaron, a young black gay man who'd been catfishing for eight years with three different profiles, talking to up to 100 guys at a time. He got kicked out of college when he was caught catfishing his RA, but somehow maintained his online activities were harmless until Tyler confronted him about it.
Aaron's friends knew he had fake profiles but didn't know the extent of his problem. Tyler's friends tried to play it cool when he told them what had happened, but their obvious homophobia was a little off-putting. Although Aaron wanted to stay friends, it was clear that wouldn't happen. On the bright side, Aaron finally got the courage to move from his tiny Michigan town to New York City, where people are more accepting of his sexuality and it's easier to date.
It's always tough to watch the show, especially when you can tell how horribly things are going to go for the person. But there's a silver lining in Tyler's situation: He is objectively one of the most attractive dudes the show has ever featured, and he is going to get so much ass after this.
Catfish airs Monday nights at 11 p.m. on MTV.
Follow Jean on Twitter @hijean
[PHOTO CREDIT: MTV]
More:
TCA: CBS Boss on 'HIMYM' Season 9, Angus T. Jones' 'Men' Future
TCA: ABC's 'Mistresses' is 'Not a Bunch of Ladies Whoring Around'
TCA: Joss Whedon's 'S.H.I.E.L.D.' Pilot Likely to Get Series Order

Megan Fox's 12 Hottest Moments (Moviefone)