CBS Addresses Offensive Statements Made By 'Big Brother' Houseguests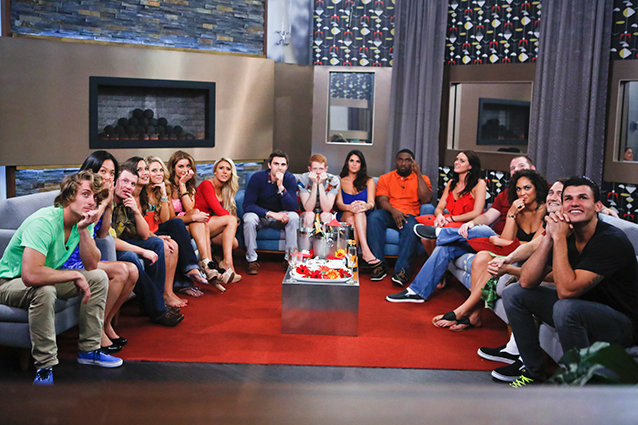 Looks like Paula Deen isn't the only one under fire for her offensive slurs. A few of the Big Brother 15 houseguests were caught on camera making some racist, homophobic, and misogynistic comments. 
On the show's live 24/7 Internet feed, houseguest GinaMarie Zimmerman sparked controversy when she used the n-word and wondered if a punch in the face would make Asian-American contestant Helen Kim's "eyes straight." Spencer Clawson was heard using the c-word when speaking about female houseguests and referred to openly gay cast member Andy Herren as "Kermit the f*g." But the biggest offender was Texas college student Aaryn Gries. Gries called Herren "queer" and said that Kim should "shut up and make some rice." Regarding African American contestant Candice Stewart, she stated, "Be careful what you say in the dark, you might not see the bitch."
In response to the controversy over the houseguests' offensive comments, CBS released the following statement to The Hollywood Reporter: "Big Brother is a reality show about watching a group of people who have no privacy 24/7 — and seeing every moment of their lives. At times, the houseguests reveal prejudices and other beliefs that we do not condone. We certainly find the statements made by several of the houseguests on the live Internet feed to be offensive. Any views or opinions expressed in personal commentary by a houseguest appearing on Big Brother, either on any live feed from the House or during the broadcast, are those of the individual(s) speaking and do not represent the views or opinions of CBS or the producers of the program."
While Big Brother fans are demanding that the show eliminate the offending castmembers, it's unclear if that will actually happen. Still, there are been tangible repercussions for their behavior. Zephyr Talent, the modeling agency that represents Aaryn, have announced their decision to drop the blonde bombshell as a result of her dirty mouth. In a statement to TMZ, the agency declared, "We certainly find the statements made by Aaryn on the live Internet feed to be offensive. Upon much consideration, we have decided to release Aaryn from her contract with Zephyr Talent." 
Big Brother airs three times a week on CBS. 
Follow Caroline on Twitter @carolinesb | Follow Hollywood.com on Twitter @Hollywood_com
More:
Big Brother Recap: Can We Speak Frankly?
Big Brother Recap: Quick Quack
Big Brother Recap: A Wolf in Geek's Clothing 
---
From Our Partners:


What Happened to 33 Child Stars (Celebuzz)


40 Most Revealing See-Through Red Carpet Looks (Vh1)