CBS Boss on 'HIMYM' Season 9, Angus T. Jones' 'Men' Future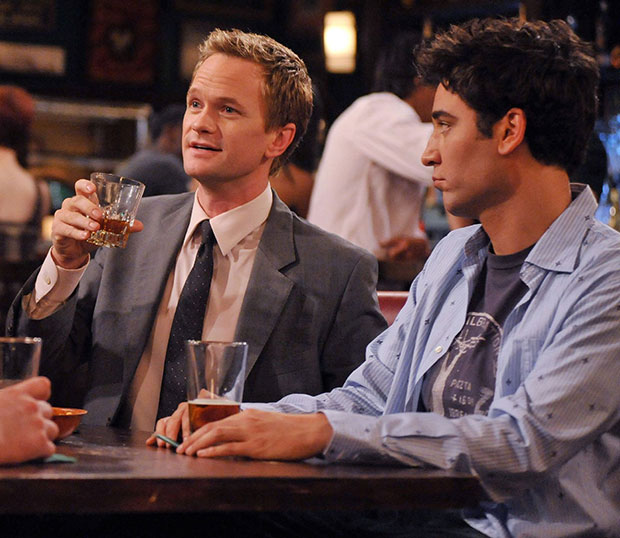 You'll see a lot of familiar faces on CBS next season: CBS Entertainment President Nina Tassler expects hit sitcoms How I Met Your Mother and Two and a Half Men to return for ninth and eleventh seasons, respectively.
"I will very happy to report — in very few days I believe — that things will be resolved [with HIMYM's contracts]," Tassler tells reporters at the Television Critics Association winter press tour. "We are very confident and excited that things will all work out. Almost everything is completed."
As for the scandal-ridden Men, Tassler says the most recent headlines (when half-man Angus T. Jones begged viewers to eschew the "filth" on the show that made him the highest-paid child in television) are all in the past. If a Season 11 happens — which the network wants; it's dependent upon the actors signing up — he's welcome back.
"We'd like him to be part of it next year; I think he would like to come back too," Tassler says. "We would like him to, Chuck [Lorre] would like him to, Warner Bros. would. He made his public apology and we've moved on."
One star who won't be returning, though, is former Blue Bloods actress Jennifer Esposito, who first went on a leave of absence for medical reasons and later accused CBS of firing her due to her illness.
"We're sorry to see her go," Tassler says of the co-star's exit. "We tried to resolve it, it didn't quite work out, and we wish her the best."
Typically, though, Tassler says CBS is a great place to work if you're an actor. "We employ them for very, very many years. They stay on their hit shows, so I think we're actually really good to our actors in that we keep them steadily employed."
In the case of breakaway hit shows like Men or The Big Bang Theory, renewing for another season is a no-brainer. But when it comes to the network's lesser-rated programming, Tassler says there are a lot of discussions with the producers before a final decision is made.
"Certainly the data, obviously the ratings, are big factors in making that decision," she says. "But before a show is picked up for a new season we spend a great deal of time meeting with them, talking about what the next season will look like, what kinds of creative changes they're going to make, if there's any cast additions they're making, or any changes that they want to make, those are big factors as well."
Follow Jean on Twitter @hijean
[PHOTO CREDIT: CBS]
More:
TCA: 'Zero Hour' & 'Red Widow': Clocks, Nazis, Russian Mobsters & More in ABC's New Dramas
TCA: ABC's 'Mistresses' is 'Not a Bunch of Ladies Whoring Around'
TCA: Joss Whedon's 'S.H.I.E.L.D.' Pilot Likely to Get Series Order

Megan Fox's 12 Hottest Moments (Moviefone)

Ryan Gosling's 'Airbrushed' Abs: Plus 19 More Reasons We Love the Actor (Moviefone)