CBS Goes Under the Dome With Stephen King and Steven Spielberg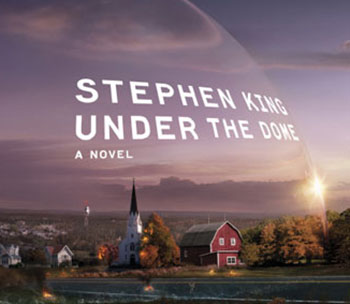 CBS is betting big on Under the Dome, a new TV series from Steven Spielberg and Stephen King set to air on the network during the summer months of 2013 — so much so that it's surpassed the traditional pilot stage of production and ordered the show straight to series.
Under the Dome, based on the King novel of the same name, tells the story of a small New England town "that is suddenly and inexplicably sealed off from the rest of the world by an enormous transparent dome," according to CBS. "The town's inhabitants must deal with surviving the post-apocalyptic conditions while searching for answers to what this barrier is, where it came from and if and when it will go away."
Something tells us that despite the slight similarity, the plot of Under the Dome will presumably get a little more intense than the Simpsons movie.
"This is a great novel coming to the television screen with outstanding auspices and in-season production values to create a summer programming event," said Nina Tassler, President of CBS Entertainment, in a press release. "We're excited to transport audiences Under the Dome and into the extraordinary world that Stephen King has imagined."
Follow Jean on Twitter @hijean
[PHOTO CREDIT: Simon & Schuster]
MORE:
Joan Allen Joins Film Adaptation of Stephen King's A Good Marriage
Stephen King Sets The Shining Sequel Release Date
TV Tidbits: Good News for Malibu Country and Last Man Standing
You Might Also Like:

Cory and Topanga Are In! Big 'Boy Meets World' Spinoff News