CBS Last in GLAAD Network Responsibility Index Again: Will It Ever Change?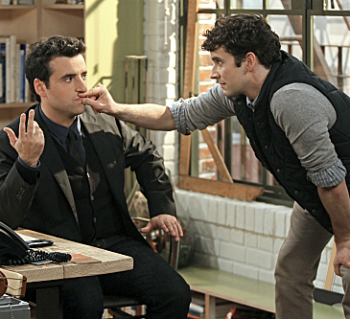 GLAAD released its annual TV Network Responsibility Index, and for the most part, the results aren't all that surprising. Gay men are represented more heavily than Lesbians and transgender people. Pay-networks score much higher than big networks. And once again, the CW is in the lead with 29 percent, with Fox and ABC following interchangeably behind at 24 and 27 percent, followed closely by NBC at 19 percent. Meanwhile, CBS is not only in last place at eight percent, the network has dropped two percent from the previous year. Plus, while other networks show general improvement over time, CBS has hovered in single-digit territory for the past five reports. With history like that, will the number one network in ratings ever raise its status with GLAAD?
CBS is obviously doing something right. It consistently posts the series with the highest, almost mind-bogglingly consistent ratings. Even reruns of one of the network's crown jewels, The Big Bang Theory, can garner ratings upwards of 13 million viewers. But when it comes to including LGBT issues and characters, CBS is apparently a little out of touch.
According to the report, the only instances of LGBT impressions come courtesy of Kalinda, the bisexual investigator on The Good Wife, and various gay and lesbian contestants or hosts on series like Survivor, Undercover Boss, and Big Brother. Scripted shows saw blips in the forms of Barney's gay brother on How I Met Your Mother, a lesbian surrogate on Rules of Engagement, and Alan's mother's romance with a woman named Jean on Two and a Half Men. While these impressions aren't necessarily negligible, compared with the representations of LGBT lead and prominent characters on other networks, including Santana on Glee, Callie Torres on Grey's Anatomy, and Chaz Bono on Dancing With The Stars, CBS is clearly earning its last place slot.
And this result should come as no surprise. Since 2006, CBS has come up with less than 10 percent, dipping to a remarkably low five percent score in 2008-2009. While every other network, and most cable networks have either maintained what GLAAD deems a "good" score, or shown significant improvement over the years, CBS has not only failed to increase its score, it's actually decreased. But with the network's new series, Partners (pictured) on the horizon and prospect of the bisexual B plot on Two and a Half Men picking up steam, CBS could be on the road to becoming "adequately" inclusive.
Partners has been deemed the new Will & Grace, following a straight man and his gay best friend through their friendship and various relationships. If it survives, it will surely boost CBS' score, because the network will score an impression for every episode featuring the openly gay male protagonist and an impression for each discussion or plot that involves LGBT issues.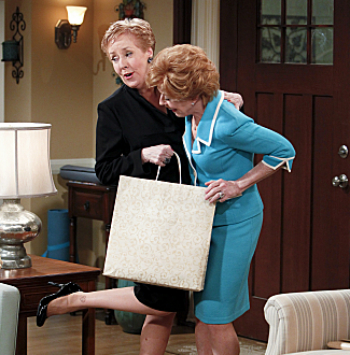 But to be clear, CBS is not alone. History and TBS are both hovering in the "failing" zone with three percent and five percent, respectively. History's low score is somewhat understandable, considering that their original programming slate, for the most part, follows historical events in which the opportunity to include LGBT topics is not as prevalent. However, the network has added some reality programs, including Full Metal Jousting which have allowed for a more inclusive slate. TBS, on the other hand and like CBS, has a much higher playing field for offering more LGBT impressions.
The disheartening issue with CBS' score is that at the end of the day, the mega network is a business – and a very lucrative one at that. While the network is making small steps to improve its score with something like Partners, the wild success of its other series begs the question: Will CBS really make an effort when most businesses in their position would likely operate on the "if it ain't broke don't fix it" principle?
To see details on how every network fared, read the full report.
Follow Kelsea on Twitter @KelseaStahler