CBS Snags Eddie Murphy in 'Beverly Hills Cop' Series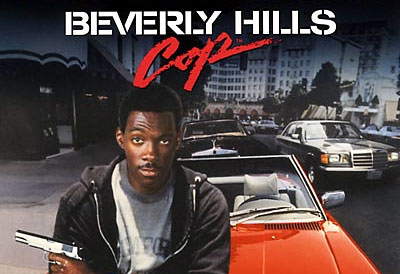 A cop with a delinquent past relocates to an overly posh LA suburb to help solve his best friend's murder. Sounding familiar? If it doesn't, then sorry — but we really don't think this friendship is working out. Sources close to the network confirm that Eddie Murphy's big screen hit Beverly Hills Cop is coming to CBS, but of course there's a twist.
The three
BHC
movies chronicle the adventures of Axel Foley (Murphy), a wise-cracking Detroit detective who moves to Beverly Hills to take down America's most wealthy wanted. But, as 
Deadline
reports, the new show (created by
The Shield
's
Shawn Ryan
), will showcase Axel's son Aaron as he defeats the new criminals of 90210, all while trying not to be compared to his iconic father. And to answer your burning question — yes! Murphy will reprise his role as Axel in the pilot and he may recur if the pilot gets picked up for a series.
Since plans for a fourth movie were squashed, Murphy has been trying to get the series rolling for over a year now. Beverly Hills Cop was pitched to all four major networks last week and it looks like CBS called dibs the quickest. This show definitely fits into CBS's niche of light procedurals, à la NCIS, The Mentalist, Hawaii Five-O, and their newest stab at franchise-turned-show Elementary. Sheesh, that's a lot of crime that needs solving.
Are you excited to see Eddie Murphy fighting the bad guys again? Think you'll tune in to Beverly Hills Cop: The Series? Talk about it in the comments below!
Follow Leanne on Twitter @LeanneAguilera
[Photo Credit: Paramount Pictures]
MORE:
TV Tidbits: Bryan Cranston Trades New Mexico for New York, 'American Horror' Gives Us Something…
TV Tidbits: Which 'Lost' Favorite Is Joining 'Once Upon A Time'?
TV Tidbits: Spike Lee's Michael Jackson Doc Eyes Thanksgiving Premiere