New CBS Trailers: Star Power Drives 'The Hostages,' 'The Crazy Ones,' and 'Mom'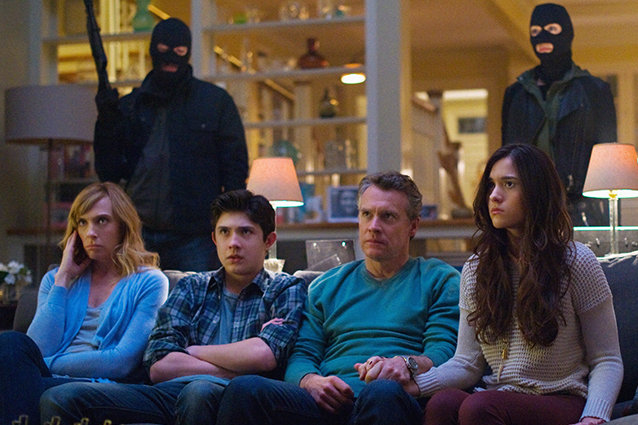 Men, moms, and a mini-series are just some of what CBS has in store for viewers this fall. The top-rated network had their upfront presentation at Carnegie Hall on Wednesday and rolled out the trailers for their new shows. Some looked very good (hello, The Hostages!) and some, well, make us sadder for Will Arnett than Up All Night ever did (The Millers). 
The network seems to be staying close to their current formula of bawdy comedies (We Are Men could just as easily be called We Are Two and a Half Men) and glossy procedurals starring Lost alums (Intelligence). But, hey, if it ain't broke, don't fix it. CBS is also going heavy on star power in the 2013 fall season, nabbing the likes of Robin Williams, Kelly Clarkson, and Sarah Michelle Gellar. All on the same show, no less. 
Here are the previews for all the new CBS series and our first impressions of them. Hopefully the network will release the inspired Les Mis parody they did with the cast of How I Met Your Mother in which they croon "One Year More." Seriously legendary. 
The Hostages

How they'll turn this into an entire series, we have no idea, but we're already hooked. This intense drama, centered around a doctor (the great Toni Collette) unwillingly put in a Presidential assassination plot by a baddie (Dylan McDermott), looks like a truly well-made thriller. 

The Crazy Ones

Robin Williams, Sarah Michelle Gellar, Kelly Clarkson, and James Wolk all shill for McDonalds. Wait, is this why Bob Benson is at Sterling Cooper? He's a mole!

Intelligence
Josh Holloway has the Internet in his brain, or something. Poor guy. It's going to be mostly Lost spoilers in there.

Mom 

Joining CBS' Mom-day night lineup (get it?!) is the latest from Chuck Lorre, in which Anna Faris plays a recovering alcoholic single mother. Yes, it's a comedy. But, hey, the always-great Allison Janney is there, so that's something. 

We Are Men
They are men. Two of those men are Tony Shaloub and Jerry O'Connell and they say and do crass things because, you know, they are men. CBS knows where their bread is buttered. 
The Millers 


Sadly, this isn't a spin-off of Margo Martindale's New Girl Miller mama, rather a new comedy in which she plays Will Arnett's mom who farts a lot. Beau Bridges and JB Smoove star in it as well. They do not appear to be farting. 
Under the Dome
Not quite as funny as The Simpsons movie, but Dean Norris is there so that's awesome! Spielberg is bringing the mini-series adaptation of Stephen King's classic story to the small screen this June.  
More: 
CBS Fall 2013 Schedule: Comedies Dominate, But 'Mike & Molly' Shifted to Midseason 
Fox Fall 2013 Schedule: 'Dads', 'Sleepy Hollow', and More!
A Sneak Peek at ABC's New Fall Shows  
---
From Our Partners:


Zoe Saldana Strips Down For Magazine (Celebuzz)


33 Child Stars: Where Are They Now? (Celebuzz)