'Celebrity Apprentice All Stars' Is Going To Be Insane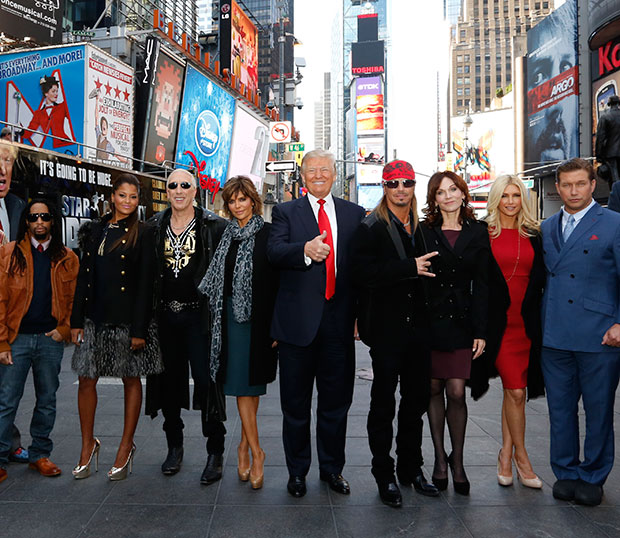 While Dancing With the Stars All-Stars didn't exactly capture the public attention, NBC is attempting its own all-star reality gathering with the new season of The Celebrity Apprentice, debuting March 3.
This one might work better than ABC's, especially once you remember that Celebrity Apprentice has the unique ability to collect the most bizarre (and occasionally bats— crazy) personalities in the biz. That craziness was on display at the show's TCA panel on Jan. 6, when some of the celeb contestants, including Stephen Baldwin, Lisa Rinna, Trace Adkins, Penn Jillette, and Omarosa Manigault-Stallworth, gathered to discuss the new season.
Once we were able to stop snickering long enough to take notes, Hollywood.com gathered the most insane quotes from the panel. Enjoy them, and the first trailer for the new season, below.
On returning to the show:
Busey: "I'm very likable. The reason I did the show is because I didn't have anything else to do."
Adkins: "It took my house burning down to get me to come back."
On the worthiness of individual charities:
Jillette: "If you're against my charity you're against Elvis, and if you're against Elvis you're against the United States of America."
On Stephen Baldwin's competitive nature:
Omarosa: "Stephen Baldwin will stab you in the front, as opposed to the back."
Baldwin: "Is that true about me, Trace?"
Adkins: "Yes."
On how the show helped change the public's perception of the competitors:
Lil Jon: "Grandmoms love me. I can't go anywhere without a 70-plus-year-old woman coming up to me and going 'You did so good on Apprentice!' "
Adkins: "Old ladies are hot for me too now."
On the competition:
Rinna: "Women can be bitchy. Let's just say that."
Jillette: "Men can be bitchy too."
Omarosa: "Lil Jon had to break up all the fights between me and crazy-ass La Toya Jackson."
On the valuable life skills learned during production:
Adkins: "I don't think I ever learned anything doing this show that I've used anywhere else. No s—."
Celebrity Apprentice All Stars premieres March 3 on NBC. Watch the hilarious teaser trailer here: 
[Photo credit: Heidi Gutman/NBC]
More:
You Might Also Like: