'Celebrity Apprentice': Did Donald Trump Get the Final Three Right?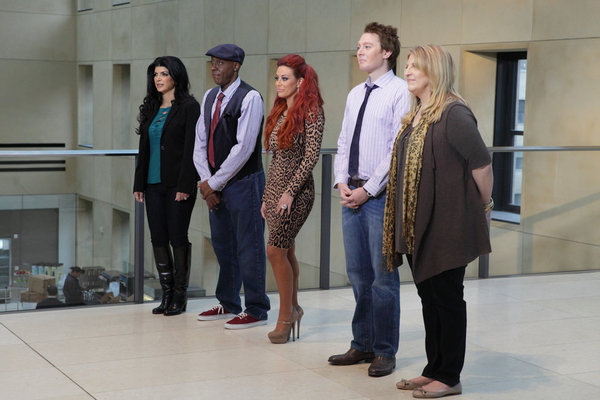 On last night's Celebrity Apprentice, we were treated to two banal firings. Banal because the first "star" sent packing, Teresa Giudice, was one we knew was bound to leave us prior to the final three, and the second "star" sent to the elevator of shame, Lisa Lampanelli, went out in a blaze of warm fuzzies, disappointing any viewer hoping to see the Celebrity Apprentice mean girl depart amidst a flurry of verbal slurs.
So, yes, the firings might have been banal, but the more important question is: Were they deserved? For one, despite the CHI and Elle executives' beliefs to the contrary, Teresa actually should have bagged a victory for their task — though the Real Housewives of New Jersey star has proved to be a bumbling and boring Project Manager (you know it's bad when Eric Trump can steal your spotlight), Unanimous' ad campaign, complete with a hysterically self-promoting Aubrey O'Day as a model, was far superior to Forte's hardly strong treatment of the hair dryer. You could tell even the producers thought so — we were offered a mere glimpse or two of Forte's unattractive, confounding, and wordy advertorial, making it difficult, but not impossible for the viewer to tell it was far weaker than Teresa's team.
But Trump couldn't fire Lisa for the CHI task — otherwise, that would rob the episode of its final half-hour intrigue. (Teresa acing a final interview is about just as likely as Eric Trump not taking a bite out of your neck to suck up your soul.) So Trump enforced his no-rules-but-my-inexplicable-rules policy and bumped Teresa, making the final half hour anyone's game. The final four was nearly Celebrity Apprentice's strongest (it would have been more of a nail-biter had Penn Jillette not been fired weeks back) — Aubrey, Lisa, Clay Aiken, and Arsenio Hall all could have easily earned spots in the final two. So after Marlee Matlin and John Rich both fulfilled their contracts to return to Celebrity Apprentice to kiss Trump's ass interview the final hour, Trump's final decision was surprising, considering how much Marlee and John bonded with Lisa.
John, for one, was easiest on the dirty comic — he appeared to develop a stronger bond with Lisa than with his own cowboy hat, despite tearing apart the other three for a) not stepping up enough (Clay), b) not incorporating high-powered friends into the challenge (Aubrey, though, despite his insistence otherwise, I'm guessing John has not seen Making the Band), and c) not winning enough money for their charities (Arsenio, though that's likely because this season of Celebrity Apprentice has featured far fewer rolodex challenges than previous seasons). But though Trump loves drama more then a beautiful woman half his age, he also has a history of cutting emotional trainwrecks (see: Meat Loaf) just prior to the finale. (After all, why give them a shot at the win when you can invite them back to instill terror in the top two's final task?)
So out went Lisa, with surprising class and sans verbal fireworks. Disappointing for anyone who enjoyed watching her spar with Dayana Mendoza, but — just like our favorite wide-shouldered and vicious Terminator — she'll be back.
But who will she be helping in his or her final challenge? Trump has so many possible combinations to consider: Trump has a soft spot for Arsenio, and how could he resist forcing the comedian to face off against his greatest enemy in the game, Aubrey? Then again, Trump has never been tied to gender equality in Celebrity Apprentice — perhaps the good-hearted Clay and Arsenio are the best twosome for the finale. But on the other hand, it would make sense to pit Clay and Aubrey against one another — after all, they have played against each other twice as Project Managers, both winning once. Best two out of three? And it wouldn't be a satisfying Celebrity Apprentice finale unless Aubrey takes credit for the winning task, the Trump empire, Barack Obama's presidency, Two and a Half Men's absurdly high ratings, and Thomas Paine's Common Sense.
With which combination would you most be at peace with the future of Celebrity Apprentice? And should Unanimous — with Teresa as Project Manager — have lost the Chia challenge?
Follow Kate on Twitter @HWKateWard
[Image Credit: NBC]
More:
Celebrity Apprentice: Now THAT's What I Call a Boardroom!
Celebrity Apprentice: Could Dayana Mendoza Make It to the Finals?
Celebrity Apprentice: How Has Lisa Lampanelli Lasted This Long?Celebrity Apprentice