Charlie Sheen Wants to Appear on 'Two and a Half Men' Finale — VIDEO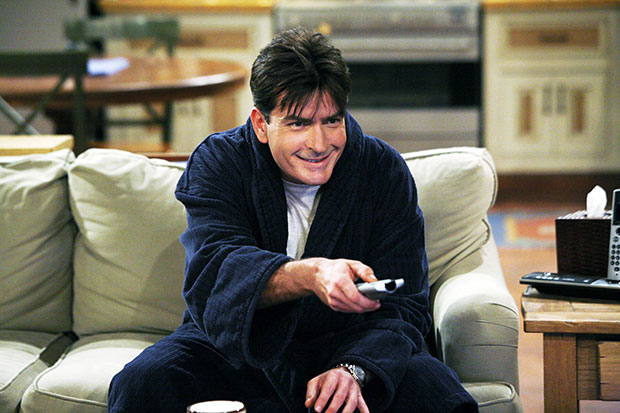 On Monday night Charlie Sheen returned to CBS. No, no, not on a Chuck Lorre sitcom. The Anger Management star sat down with David Letterman on the Late Show and spoke candidly about the 2011 meltdown that got him fired from Two and a Half Men. He also shared a secret wish: Sheen wants to reprise his role as Charlie Harper for the Men finale.
"But aren't you dead?" Letterman asked, referring to how series creator Lorre promptly killed Sheen's character off-screen following his departure. "I'm dead, but so is the show," Sheen replied. The only problem with Charlie Harper returning as a ghost? It's already been done! Last year Kathy Bates won an Emmy for playing Charlie in spectral form—he was given an afterlife sex change in penance for his treatment of women on earth.
Sheen does seem to have remorse for the antics that called him fired and spoke dismissively of the widely-panned 21-city stand-up comedy tour he embarked upon post-Men, saying that he was embarrassed by the incoherent interviews and tiger blood-fueled web rants he gave at the time. "Have you seen those interviews?" he said. "If I had to do it all over again, I think I would have been a little less vocal." He also apologized for calling former costar Jon Cryer "a troll." "I did [call him that], but I retracted it. A 'troll' retraction. He's nothing close to a troll. He's a genius and one of my favorite costars ever."
Sheen was less generous to Angus T. Jones, the 19-year-old "Half Man" turned "born-again Christian" who in November bashed Two and a Half Men as filth and urged viewers to stop watching: "That was not Adonis DNA. No, no. Not even close."
So far, Chuck Lorre has not responded to Sheen's stated desire to return to the show.
Follow Christian Blauvelt on Twitter @Ctblauvelt
[Photo Credit: CBS]
More:
Charlie Sheen Calls 'Two and a Half Men' a 'Cursed' Show
'Half Man' Angus T. Jones Blasts 'Two and a Half Men,' Pleads You to Stop Watching

Craziest Celebrity Swimsuits (Celebuzz)