'Cheers' Stars Kirstie Alley and Rhea Perlman Have a 'Giant Baby' Together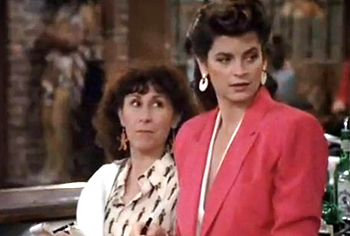 It's been just under two decades since the sitcom legend Cheers went off the air, forcing the members of its unstoppable comic team to venture their separate ways. Since that bittersweet day in 1993, we've seen members of the troupe take up with one another here and there: on Cheers spinoffs Frasier (the good one) and The Tortellis (the one you don't remember), on sister series Wings and the surprising locale of St. Elsewhere. And now, on a whole new program: the Boston-set sitcom's own Kirstie Alley and Rhea Perlman will costar on their own new TV Land program, Giant Baby.
Deadline reports that the forthcoming show will star Alley as Broadway star Madison Banks, who is reunited with her estranged biological son many years after his birth. Perlman will play Alley's right-hand woman and best friend, and ostensibly the moral compass who encourages a healthy relationship between Madison and her son (who has yet to be cast).
This is just the latest attempt at an onscreen reunion for these particular Cheers vets. In 2011, Alley and Perlman headlined an ABC New Jersey-set comedy pilot that never amounted to series; prior to that, Perlman guest starred on Alley's series Fat Actress. Curiously, Alley is the only living major player from Cheers to never guest star on Frasier. Perlman appeared on a 2002 episode of Kelsey Grammer's series alongside John Ratzenberger and George Wendt.
[Photo Credit: NBC]
More:
Toasting the 30th Anniversary of Cheers: The First Show That Was Just About People
Dancing With the Stars: All-Stars Recap: Call Me (An Ambulance), Maybe?
Mad Men Goes to Hawaii for Season 6 — PHOTOS
From Our Partners:

Jessica Biel's Pink Wedding Dress: Celebrity Brides Who Didn't Wear White — GALLERY
(Celebuzz)

'Real Housewives of Atlanta's New Gal Kenya Moore Redefines Model Behavior — EXCLUSIVE VIDEO
(Celebuzz)