All of the Questions We Have About Chelsea Handler's Netflix Talk Show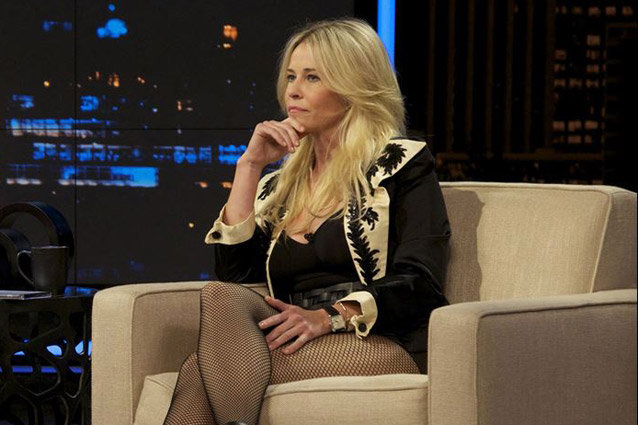 E!
Just when the late night shakeup was finally starting to settle down, Chelsea Handler throws everyone for a loop. Since she announced plans to leave her E! talk show Chelsea Lately a few months ago, rumors and speculation regarding her next move have mounted. On Thursday, the comedian revealed that instead of moving to a different network or show format, she had instead inked a deal with Netflix (via Hollywood Reporter). The deal includes a stand up special, which will be released on October 16, a documentary comedy miniseries that will chart her attempts to learn more about a variety of topics, and the streaming platform's first ever late night talk show.
That's right: Handler and Netflix are planning to take the television format with the shortest possible shelf life – a talk show really only exists on a day-to-day basis – and present it on a platform designed to allow people to watch both old and new content whenever they please. Since neither Handler nor the network have revealed exactly what their plans are for a talk show on a site designed for binge watching, we can only assume that they have just as many questions and concerns about the project as we do. And we have a lot of questions…
-How is Netflix planning to release the talk show? Are we talking a nightly or weekly basis, or just full seasons all at once, like they do with their other original programming? If it is full seasons, how will they manage to keep things topical and up-to-date?
-If the show isn't tackling topical issues, is it still a real late night show?
-Can they even call it a late night show if most people won't be watching it late at night, but instead at whatever time of day they please?
-How is Netflix, which mostly traffics in heavily serialized shows, going to get people to watch a show that is often digested in individual segments and viral clips?
-If they do decide to release it on a daily or weekly basis, does that undermine the entire Netflix model?
-If they release things daily, will the episodes go up at night, when a late night show would usually air, or in the morning, when people are likely to be catching up on everythign they missed the night before?
-Would they be released at the same time everywhere, regardless of time zones, or would Netflix roll them out at different times for different zones, the way that late night shows on television would air?
-If Netflix releases episodes on a weekly basis, would they be doing one episode a week, or a week's worth of episodes at one time? If the latter, how will they be able to keep things fresh and topical?
-No matter how the network rolls it out, how important will current events and pop culture news be to a show that doesn't air on a timely basis?
-We're all in agreement that booking the guests is going to be the easiest part of this show, right? 
-Will Handler still be able to rely on segments and bits from her show going viral in order to help gain the show attention, since the whole thing will be easily viewable on the Internet anyway?
-Is Handler going to be competing with the other late night hosts in terms of topics, ratings and content? Or is she just in a league of her own right now?
-Will she have to completely overhaul the format of her show for a new medium?
-Will she continue to ignore the questions that people give her for the people she's interviewing?
-Will she finally be allowed to come up with a new way of interacting with and interviewing her guests, since she clearly hates the traditional routine?
-Is the show going to be filmed in front of an audience, or will it only be Handler in the studio? Is it still a late night show without an audience present?
-Is Chuy moving with her? 
-Does moving to Netflix show that we don't need any more late night talk shows, since both network and cable channels are filled to the brim with them?
-If Handler is going to Netflix, who's taking Craig Ferguson's spot?