Chevy Chase Dropping Out of 'Community'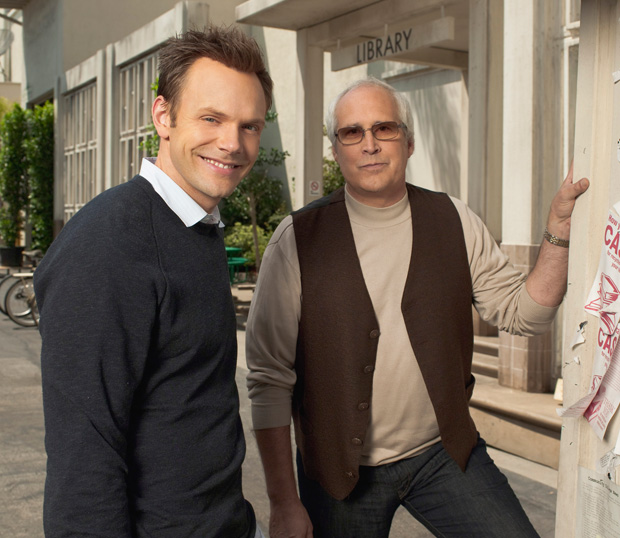 Not sure what timeline this news comes from, but it's happening: Chevy Chase is dropping out of Greendale Community College, effective immediately, a rep for the show confirmed to Hollywood.com. That's right, the show that can't seem to catch a break, Community, has lost one of its students.
The actor known as Pierce Hawthorne, has decided that his degree just isn't worth finishing up after a notably tumultuous three and a half years and four seasons. Chase has frequently been critical of the NBC series, who—despite low ratings—has regularly being a darling amongst rabid fans and critics alike.
In an interview with The Huffington Post UK, Chase explained his feelings thusly: "It was a big mistake [doing the show]! I saw this pilot script, thought that it was funny, and I went into the room where they were casting and said, 'I would love to play this guy.' Then they mulled it over. Then they hired me and I just sort of hung around because I have three daughters and a wife, and I figured out I might as well make some bread, every week, so I can take care of them in the way they want. My wife has just been in the Antarctic, and Cuzco in Peru, and Lima, and Machu Picchu… she likes to travel. That was about a month of travelling, and that will take about a year of work."
Chase's longstanding disdain for television has been frequently documented, including a quote from the same Huffington Post interview, where Chase put it plainly. "The hours are hideous, and it's still a sitcom on television, which is probably the lowest form of television. That's my feeling about it." Way to mince words there, Pierce.
In the end, though, Chase's departure won't effect the upcoming fourth season too much: the majority of the season has already been filmed (including the finale), so he'll only miss one or two episodes. Six seasons and a movie? Maybe, but something tells us Chase won't be involved.
Are you surprised by the news? Let us know in the comments.
[Photo Credit: Mitchell Haaseth/NBC]
Follow Alicia on Twitter @alicialutes
More:
Chevy Chase Allegedly Uses Racial Slur On 'Community' Set — REPORT
Chevy Chase Rants Again: 'Community' Is Just a 'Mediocre' Sitcom
Joel McHale Talks 'Community' Renewal and Chevy Chase
'Community' Feud: Is Chevy Chase Leaving the Show?

Prince William Shares Personal Snapshots of Royal Air Force Life (PHOTOS)
(Celebuzz)