'Chicago Fire': Follow This Smoke to Wednesday Night's Premiere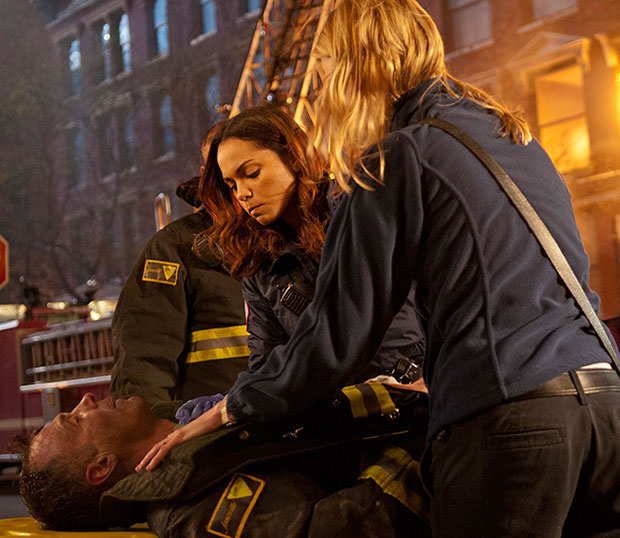 Over the next few months, we'll see new series soar, old series sour, and so much Jersey Shore madness, we'll want to shower. Let's face it: The Fall TV season is intimidating. With dozens of new and returning shows hitting our small screens, we know we have some big choices to make. So, to help you determine what to watch, we're digging deep into the most notable series premiering this season. Where did each show leave off? Where is it headed? And who should you watch it with? Today, we're checking out Chicago Fire, which will involve audiences in the lives of firefighters (twist!) who live and work in Chicago (double-twist!).
Series Name: Chicago Fire
Premiere Date: Wednesday, October 10 at 10 PM on NBC
Number of seasons on air: This'll be the first
Cast: Lie to Me costar Monica Raymund, House alum Jesse Spencer, Oz vet Eamon Walker, and the horror genre's own Lauren German — not to mention a handful of other "Hey, it's that guy!" players. And David Eigenberg.
Synopsis: The day-to-day professional and personal lives of a team of Chicago firefighters, faced with the innate stresses of their high-stakes jobs, as well as in-house rivalries, romances, and other tensions. The show picks a month after the death of a universally beloved Chicago firefighter in the line of duty. We devoted paramedic Gabriela Dawson (Raymund), firehouse newbie Peter Mills (Charlie Barnett), feuding colleagues Matt (Spencer) and Kelly (Taylor Kinney), hard nosed paramedic Leslie (German), and no-nonsense seasoned officer Boden's (Walker), in the dawn of an unwanted reassignment to the quiet, fire-free county of Deerfield. And David Eigenberg.
You'll like it if: You like high-stakes scenarios, living vicariously through onscreen excitement, and ensemble affairs manufactured with every single line of dialogue and interpersonal interaction steeped in a thick gravy of dramatic tension.
You won't like it if: You're put off by scenes of people facing mortal danger, children especially, and melodramaticism.
Who to watch with: Your fellow emotionally-driven TV watchers. The gaspers, the weepers, the sort of people who can hop on board a shipping bandwagon with little more than a few meaningful glances.
Who not to watch with: Your retired, stonefaced fire chief uncle who'll lament all the horsing around that goes on between these hormonal goofballs.
What to yell at the TV: "Don't go into that building! For goodness sakes, it's on fire! Everything is on fire! Why does a city as cold as Chicago have so much fire?!"
What to eat while watching: Marshmallows, bananas foster, anything flambé, or a deep dish pizza.
What to drink while watching: A Flaming Moe, of course.
Best fashion tip: Sometimes, a Hazmat Suit can be pretty stylish.
Worth checking out: We've seen countless police and medical dramas, but Rescue Me has really had the market on firefighter series. Hopefully, Chicago Fire can add something new to the mix and keep the admirable occupation of keeping our citizens safe afloat on network television. After all, it does have David Eigenberg.
[Photo Credit: Matt Dinerstein/NBC]
More:
Web Comedy is the New Monty Python: Key & Peele Weigh In
Is Arrow a Bullseye? Everything You Need to Know Before the Premiere
American Horror Story: Asylum: Watch the First Five Minutes Now!