'Chicago Fire' Premiere May Only Smolder, But Definitely Sparks Our Interest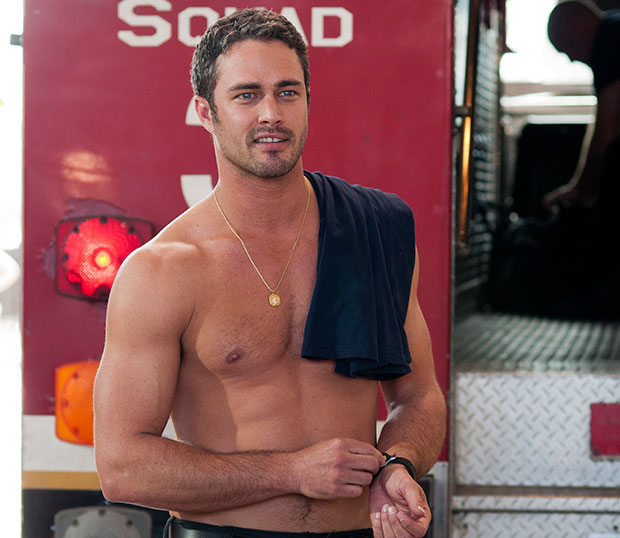 When the premiere episode of NBC's new drama Chicago Fire came to a close, I can't say that I wasn't disappointed — disappointed because I actually found myself not hating the show. Let me explain: it's not that I was truly rooting against it, it's just that I had already come up with a handful of negative review headlines too fantastic to pass up:"Chicago Fire Will Make You Stop, Drop, and Roll Your Eyes"
"Chicago Fire Is All Smoke and Mirrors"
"Chicago Fire — Give It the Axe, NBC"
"Chicago Fire — Hose It Down, NBC"
"Chicago Fire — The Cubs of Television Shows"Such a missed opportunity. Still, it's not as though the series doesn't have its kinks. Set in some major North American city (I wanna say Sheboygan?), the pilot introduces us to the beehive that is the focal firehouse, complete with a team that makes it highly evident that the setting has a pulse.
The atmosphere of the firehouse is palpably alive, thanks to the range of characters and relationships found within. At the center of the series are devoted, cares-too-much paramedic Gabriela (Monica Raymund), eager newbie Peter Mills (Charlie Barnett), and feuding colleagues Casey (Jesse Spencer) and Kelly (Taylor Kinney), both torn up over the recent loss of a fellow firefighter. Individually, Casey and Kelly deal with their own respective problems (marital separation and some undisclosed illness), but are driven to keep one another aware of the ever present animosity shared all throughout the episode.
Other major characters include a stoic Batallion Chief Wallace Boden (Eamonn Walker), grappling with a decision to play out the rest of his career in the quiet, apparently "fire-free" community of Deerfield, but seems unprepared to leave his cherished professional family behind — especially in light of at least two divorces weighing him down emotionally. Also in management, the compassionate District Chief Lynn Fitori (Merle Dandridge), enveloped in an ostensibly secret affair with one of her subordinates.
The rest of the team consists of acerbic paramedic Leslie (Laurie German), whose homosexuality is introduced via a prank at the expense of newcomer Mills, plus hard-on-his-luck griper Herrmann (David Eigenberg), firehouse shlamazel Otis (Yuri Sardarov), motor mouth Cruz (Joe Minoso), and losing-his-edge Mouch (Christian Stolte). And that's the team.
It seems imperative to mention the lot of them — even those whose roles in the pilot are far from extensive — since it is the character of the firehouse community that keeps the episode afloat. The action sequences — fire rescues and attendance to injured parties — might have somewhat of an edge over a lot of what we see on police procedurals, but aren't unique enough to sustain a program. The individual relationships — Casey's and Kelly's stubborn enmity or Casey's strained marriage with wife Hallie (Teri Reeves) — might build over time, but also don't offer a great deal of standout appeal. What makes Chicago Fire's pilot work is the flavor of its bullpen.
The camaraderie, as evidenced by the low notes — the communal mourning of a recently deceased firefighter (whose widow also seems to be set up as a recurring character) and the entire team's union in a hospital waiting room after another is injured on the job — as well as the high ones — the gang goofs on punching bag Otis, pranks newcomer Mills, dines on Casey's home cooking, and travels together to watch Chief Boden take on the police officer who stole his ex-wife in a traditional firefighters versus cops boxing match — is vivid; enough to believe that these people work, play, and survive together.
Of course, the flaws of the pilot might only be for lack of opportunity to flesh them out adequately, as is the hazard of an introductory episode in nature. We might see more character imbued in the personal relationships, more impressive turns for the action sequences, and more remarkable depth drawn into the individual members of the squad overtime. But for now, the show does have one thing going for it, and it's enough to encourage a return for at least the second episode.
And it's such a shame, too. "Stop, Drop, and Roll Your Eyes" would have been hilarious.
[Photo Credit: Matt Dinerstein/NBC]
More:
'Nashville' Premiere Recap: A Diva Dip
'The X Factor' Recap: Groups and Young Adults Get Judged
Christie Brinkley to Play Mrs. Jerry Gergich on 'Parks and Rec'