'Childrens Hospital': Rob Corddry on Jon Hamm, Not-Madonna, & Stealing Jack McBrayer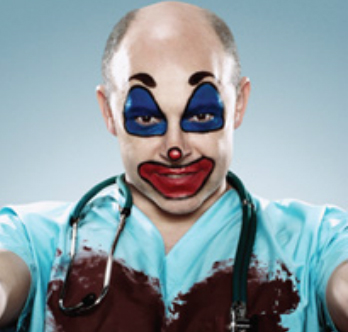 The Aug. 16 episode of Childrens Hospital will definitely air on Aug. 16. That's what creator and star of the Adult Swim show Rob Corddry was willing to dish about Thursday's episode when he spoke with Hollywood.com. Well, almost all he was willing to dish. 
"Here's what I've been told I can say: I cannot say that
Madonna
is a guest star on our show, especially tonight. I cannot say that. I cannot say tonight's episode is guest-starring, because I'm not able to say that legally. So I won't. People are either going to be really excited or really disappointed. I can't wait," he jokes.
Corddry's short-form comedy series is, with or without the Madonna listed in Thursday's episode's official log line, clearly letting loose all over the late night comedy landscape. And fans are loving it.
Perhaps it's because the series has lined up fantastic guest stars this season, like not-Madonna and actual Jon Hamm, who Corddry says is officially a comedy dude. "He's also this really funny guy, who was cursed with this Adonis, manly thing," says Corddry. Oh yes, what a pesky "thing" that Hamm's got going for him. "He got Mad Men, and it's great, but it's great that he's doing what he likes to do as well – not that he doesn't like Mad Men," adds Corddry.
But there's something more. Something beyond star power that makes Childrens work. Corddry attributes a great deal of that to the freedom offered at a place like Adult Swim. "Adult Swim is the only place on television for absurdity," says the actor, who says the network has a lock on an important demographic – the 18-30 set – which allows its shows to go a little more off the rails. (Keep in mind, this is a place that breeds series like Assy McGee and Delocated.) "The head of the network, Mike Lazzo, is very much like a punk rock president. He's just like, 'Do what you love and we'll support you,'" gushes Corddry.
But what does Corddry want to do? He wants to reap the benefits of the end of 30 Rock. Yes, Lemonites, there are benefits – benefits like Corddry bringing his friend Jack McBrayer on for a new role. "We have a whole thing planned out for him. I think he's going to play against type, a real hard ass … He's going to play the boss of the paramedic, Chet (Brian Huskey) … They're friends in real life," he says. Of course, they're no ink on paper, but how do you say "no" to a guy so committed to his character, he wears mounds of clown paint in every single scene? (You don't say "no," Mr. McBrayer.)
"Staff Dance" airs at Midnight, Thursday, Aug. 16 on Adult Swim. And Madonna may or may not be in it, but there will definitely be plenty of reasons to laugh.
Follow Kelsea on Twitter @KelseaStahler.
[Photo Credit: Adult Swim]
More:
Checking In at Childrens Hospital: Interview with Rob Corddry
The Best TV You're Not Watching: 'Childrens Hospital'
'Childrens Hospital': Long-Awaited 'Party Down' Reunion is Pretty Brief