'Clone Wars': Sam Witwer, Ashley Eckstein, and Matt Lanter Talk 'The Lawless' — VIDEO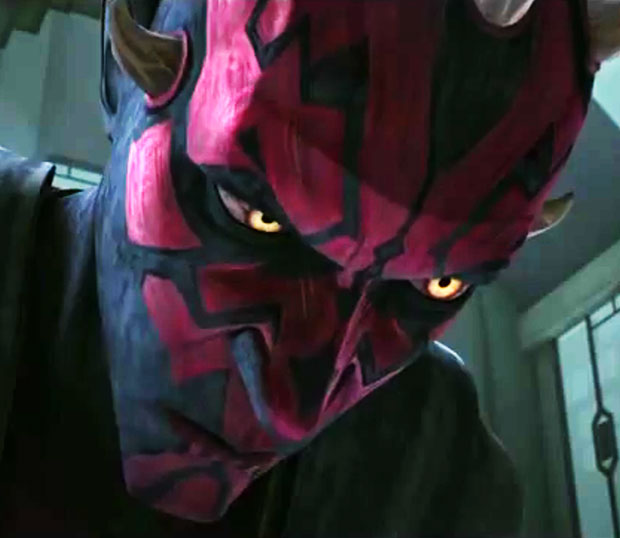 So if, like me, you're a diehard fan of Cartoon Network's Star Wars: The Clone Wars, your head is probably spinning right now. That's because today's episode, "The Lawless," didn't just cap Darth Maul's storyline in Season 5. [MAJOR SPOILER ALERT!]
RELATED: Sam Witwer on Darth Maul's 'Clone Wars' Fate: 'He's Playing a Long Game'
It shocked us with a couple major character deaths, provided possibly the most emotional moment Obi-Wan Kenobi has ever had on the show, and managed to top last week's seemingly un-top-able Maul vs. Vizsla showdown with a three-way Sith Lord smackdown that instantly ranks as Clone Wars' all-time greatest lightsaber fight.
RELATED: 'Star Wars: Clone Wars' Recap: Jon Favreau's Pre Vizsla Gets Mauled
Yeah, there was a lot to wrap your head around. So to help you guys out, hopefully you logged on earlier today to catch the first-ever Star Wars: The Clone Wars Google Hangout, in which Sam Witwer (Darth Maul), Ashley Eckstein (Ahsoka), Matt Lanter (Anakin) and supervising director Dave Filoni discussed "The Lawless" and teased the upcoming, secrecy-shrouded finale arc focusing on Ahsoka. But never fear! If you missed the chat, which was moderated by myself and Lucasfilm's Pablo Hidalgo, we're embedding it here, so you can watch it at your leisure. Please tell me I'm not too awkward in it.
What questions didn't get fielded by the team that you'd like to ask in the future?
Follow Christian Blauvelt on Twitter @Ctblauvelt
[Photo Credit: Lucasfilm]
---
You Might Also Like:

Biden? Ford? Surprisingly Hot Young Pics of Politicians

Who Wore This Crazy Hat?

Stars Who Changed Their Look After Love