NBC and CNN Drop Hillary Clinton Projects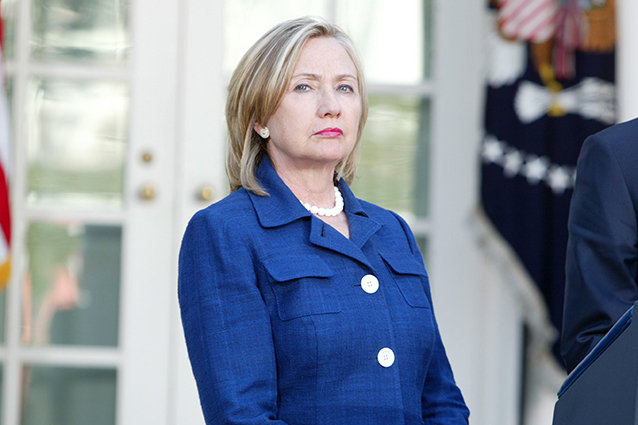 Carrie Devorah/WENN
UPDATE: NBC has announced that it has canceled development on its Hillary Clinton miniseries, according to The Hollywood Reporter. The decision comes hours after CNN Films formally dropped its planned Clinton-inspired documentary after pressure from political parties and the Clinton administration.
"After reviewing and prioritizing our slate of movie/miniseries development, we've decided that we will no longer continue developing the Hillary Clinton miniseries," the network said in a statement Monday.
The four-hour miniseries, expected to be written and directed by Courtney Hunt (Frozen River), was to star Diane Lane as the former first lady and secretary of state.
EARLIER: CNN Films has canceled its planned 2014 Hillary Clinton documentary following director Charles Ferguson's (Inside Job) decision to drop out. Ferguson withdrew his name from the film after being stonewalled by political parties, according to the blog he wrote for The Huffington Post.
Even though CNN and NBC were recently banned from hosting or sponsoring the Republican Primary debates in 2016 by the Republican National Committee because of their Clinton-inspired productions, Ferguson claims that the decision to cancel the movie was not because of pressure from CNN. Instead, he felt that he would not be able to make a movie that he could be proud of because of the resistance from democrats, republicans, and the Clinton administration.
"When I approached people for interviews, I discovered that nobody, and I mean nobody, was interested in helping me make this film," says Ferguson in his blog. "Not Democrats, not Republicans — and certainly nobody who works with the Clintons, wants access to the Clintons, or dreams of a position in a Hillary Clinton administration."
For now, we'll all just have to wait and see if NBC actually follows through with its Clinton-inspired miniseries in the wake of all of this CNN showbiz-turned-political drama.
More:
Hillary Clinton Programming Causes GOP to Ban CNN and NBC From Presidential Primary Debates
Is the Hillary Clinton Biopic Going to Cause a Problem for NBC News?
10 Reason the Ridiculous Hillary Clinton Biopic Will Never Get Made
Follow @CaseyRackham  Follow @hollywood_com
---
From Our Partners:

A Complete History Of Twerking (1993-2013) (Vh1)


15 Stars Share Secrets of their Sex Lives (Celebuzz)