Coldplay Drummer Joins 'Game of Thrones' — Is This the New 'Glee'?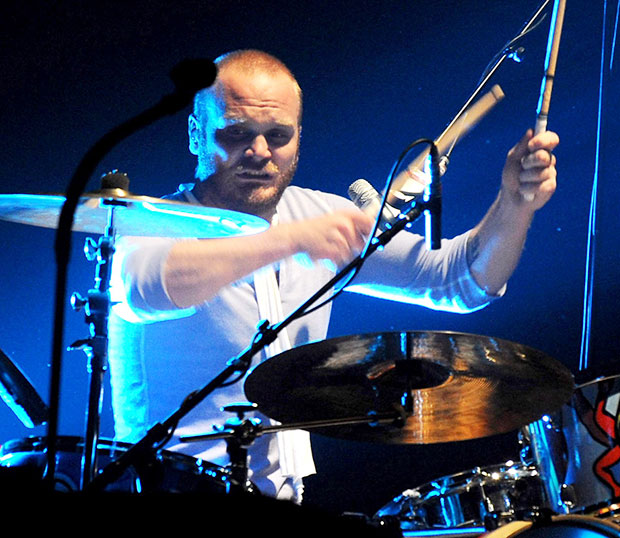 Hey, Game of Thrones fans — does this guy look like a citizen of war-torn Westeros to you? No? Well, starting next season he (that's Coldplay drummer Will Champion, N00bs) totally will be. Champion is set to play, of all things, a drummer.
According to EW, Champion is actually the second famous musician set to appear in GoT's highly anticipated third season. Snow Patrol lead singer Gary Lightbody has also been cast, in a cameo role that hasn't yet been officially described. 
Now, my first instinct as a fan of both the show AND the books was the Ryan Murphy response: I felt slightly uneasy at the prospect of GoT turning into a Glee/American Horror Story-esque cameo-fest. Yes, shows like 30 Rock do this too — often well — but it's different when it's a drama, and a period (sort of?) drama to boot. I like AHS, and am very attached to a few story lines this season, but I also feel that Murphy tries to jam in too many famous people and shocking plot points, and it's rarely for the benefit of the show. (In fact, one might argue that it's for the benefit of his ego, reacting to the show's success.)
Here's why I'm not too worried about Game of Thrones: Because showrunners D.B. Benioff and David Weiss are brilliant. They're already taken George R. R. Martin's sprawling second novel — with its too many new characters, backstories, and (sometimes boring) plots for a 10-episode series — and made it into a compelling stand-alone TV season. They know their audience, and they know the importance of appealing to the masses while keeping readers happy. And you know what would make readers really, really unhappy? Casting Lindsay Lohan as one of Littlefinger's whores, and Ryan Lochte as a member of the Lannister army.
Now, I very well could be wrong — so far there have been two famous cameos set for this season, and since we're currently eons away, there could be more. But I wouldn't bet on it, and something tells me that Champion will blend into the background. After all, I hear there might be a gig for a wedding drummer this season…