Colton Dixon on Revealing His New Single at His 'American Idol' Return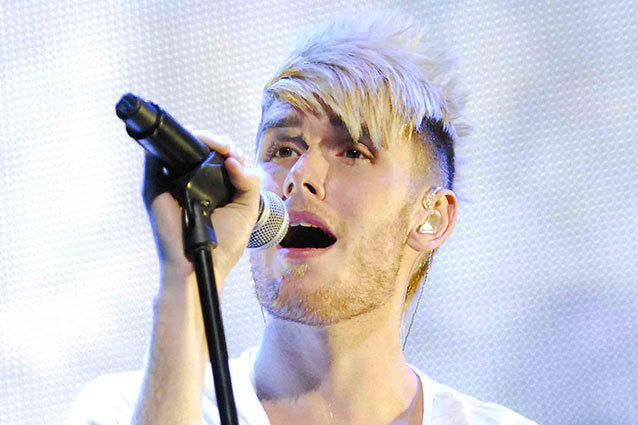 Colton Dixon seemed like a frontrunner to take home the metaphorical American Idol crown during Season 11, so it was especially shocking when the singer went home in seventh place. But all turned out well for the Tennessee native — he's gone on tour, released an album (A Messenger), had a No. 1 song on the digital Christian charts ("Never Gone," which was later performed on Idol by current finalist Angie Miller), and now he's returning to the Idol stage a year after his ouster to perform his brand new single.
"It's crazy, everything that's happened in the course of the year," Dixon tells Hollywood.com the day before his big Idol return. "I'm excited to catch everybody up on what's going on!"
RELATED: Colton Dixon Blogs the 'Idol' Season 12 Premiere
It's ironic that it's been practically a year since his exit, Dixon says, but it's much less nerve-wracking to hit the Idol stage this time. "I'm just so excited that I'm not going to be in the bottom three tomorrow night," he jokes. "It's really nice to know that I'm not being judged!" Seriously, though, "It's great timing. I've kind of come full circle."
Not everyone from Idol has Jennifer Hudson-level success, but the Oscar winner and Dixon (along with Chris Daughtry, Kellie Pickler and many other alums) certainly are examples of how vets of the Fox show can find a niche in the music industry and become very successful in their own right. "It just kind of shows the power of Idol and the platform that it gives the contestants to be able to do what they love doing on a bigger scale," Dixon says. "We've watched long enough to know that the contestants need to make the most of what we've got, whether it's 20th place or 7th place or 3rd place. It's up to you to make the lemonade. You just do that, you get to work, and you let everything fall into place, really."
Dixon hasn't revealed what he'll be performing on the show, but he did give Hollywood.com a few clues as to what you can expect from his performance. "It leans more toward the rock side of the album," he reveals. "It's very uptempo. There's going to be tons of energy coming off the stage. One thing that's cool is that we've been talking for a long time about what the new single is going to be, and we decided that it's going to be the song that I'm going to perform tomorrow night. It's one of the more fun songs to play on the tour."
RELATED: Colton Dixon on His Debut Album, 'A Messenger'
Although Dixon hasn't yet stepped back on the Idol stage — he doesn't rehearse until tomorrow morning — he is excited for the flood of memories that will come when he does. "I'm stoked! It's going to be a fun stage setup too," he says. "There's going to be a lot of stuff going on."
Dixon performs on the American Idol results show on Thursday, March 28. Stay tuned to Hollywood.com for more of Dixon's thoughts about the current Idol singers.
Follow Jean on Twitter @hijean
[Photo Credit: Veda Jo Jenkins/Rex/Rex USA]
---
You Might Also Like:


Topanga's Revealing Lingerie Shoot: Hello '90s!


13 Most WTF Fan Tributes