Colton Dixon Blogs the 'American Idol' Season 12 Premiere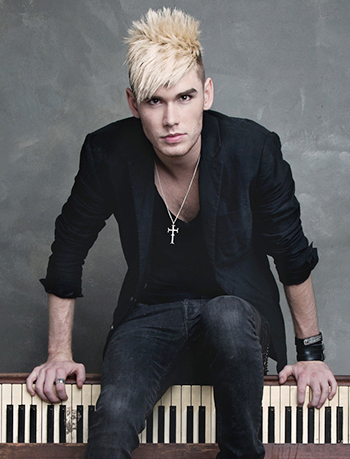 One thing you might not know from watching American Idol is that although the auditions are edited into nice two-hour episodes, the process definitely doesn't take two hours. It's two long, long days. There's so much we don't see. All the side clips of people talking? Those take 20-30 minutes each. It's one interview after another until you finally go and you can breathe that sigh of relief when you find out if you've made it or not. It's crazy; it's hectic; there's a lot of anticipation. You can feel it just walking in — there's a lot of energy going on in the room.
I'm not going to lie, I was totally rolling my eyes at Mariah Carey and Nicki Minaj in the beginning of the Season 12 premiere. It almost got annoying at how much bickering was going on between the two. On the bright side, I absolutely loved Keith UrbanI think he did a phenomenal job at keeping everyone cool.
Randy Jackson is always great. He has a lot of wisdom, and he's not scared to say no — unlike the new judges. I loved that at one point the three judges looked at Randy and were like, "Okay, you're the veteran judge, you're the one that's designated to say no from now on." I also really liked that whenever someone who might've been a little different walked into the room, Nicki automatically connected with them. If they didn't make it, she'd pull them aside and encourage them. That was really cool and I could tell it meant a lot to those contestants.
As far as the singers go, I was pleasantly surprised with Gurpreet Singh Sarin, a.k.a. The Turbanator. I really liked how smooth he sounded and how he contained his joy while singing. But the judges were saying that they didn't think his voice fit the competition, and I was kind of troubled by that. Music's not about someone who can belt their way to the top; it's about the moments that make you feel something, whether it's feeling right and happy, or making you feel something really strong.
It was a pleasant surprise to see Angela Miller pop up on Idol — she has actually covered my single "Never Gone" on YouTube. She did a phenomenal job in her audition. The last girl, Ashlee Feliceano, was fantastic. I loved her story, that her parents adopted four kids. You could tell they're a very tight-knit family, and as a family guy myself it was cool to connect with that.
Someone else who stood out was Sarah Restuccio, who sang Carrie Underwood's "Mama's Song" and then Nicki Minaj's "Super Bass." I think she had a really, really great voice. "Mama's Song" is great, but it was strange a cappella — it was really hard to find what key she was in because there are so many chord changes in the song. But she was really good at "Super Bass!" I loved the lyric changes she made. I was with the judges, though: I was not really sure what she was going for there. I'm be curious to see if she's solely country or she throws some of that flavor into country music, which could be really interesting.
One thing that I really hated was that Randy went all the way to Staten Island to find Jessica Kartalis, then they cut her! They didn't even give her a second chance to sing when she came in off key. It must've been so nerve-wracking. That really rubbed me the wrong way. Why would they go out and invite somebody and tell her she's not ready yet? It didn't make any sense. I was totally yelling at the TV.
Shira Gravrielov is already a famous singer in Israel. I know other singing competitions let stuff like that slip by, but I don't know about this show. I like the idea of American Idol being made up of artists and musicians who are just getting into the industry and trying to figure it out. There's something that's so raw about that. I like that they're not polished at first. It's cool for America to see an artist start somewhere and come full circle and become a professional. I think if she goes far it's going to be hard for America to connect with her because she has already been successful.
I was very shocked that the judges didn't let Evan Ruggiero, the amputee tap dancer, through — but I commend them for it! I know that sounds kind of harsh. I think he's talented. He had a great voice, but it was more geared toward Broadway. I think a lot of times, especially in the past, American Idol gets so connected with the story that they sometimes let a person through who may not be ready for the show. I commend the judges on not wavering in their decision. I wouldn't have been able to do that. I would have let him through! Mad props go to that kid: He really has a joy and a hope about him. I hope he's not down about getting cut, and he realizes that he did inspire people just by auditioning.
As told to Jean Bentley. Colton's debut album, 'A Messenger,' hits shelves on Jan. 29. Check back in a few weeks for Colton's thoughts on Hollywood week and more!
Follow Colton on Twitter @ColtonDixon
[PHOTO CREDIT: EMI Music]
More:
Why You'll Be Watching 'American Idol' Season 12
'American Idol' Audition Video: Do You Spot a Future Star?
10 Reasons Why Mariah Carey is the Most Qualified 'American Idol' Judge Yet

Craziest Celebrity Swimsuits (Celebuzz)