'Comedians in Cars Getting Coffee' Is Better Than 'Seinfeld'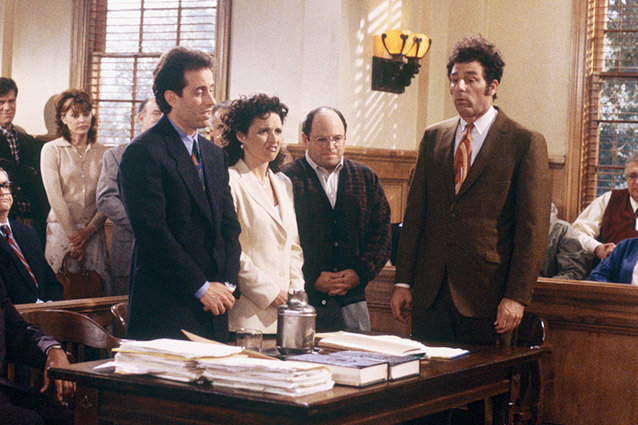 NBC Universal Media
Jerry Seinfeld is known to most people for his iconic hit television sitcom Seinfeld (1989-1998), but his latest web series Comedians in Cars Getting Coffee is clearly his best work. 
Interest in the show has been growing since its 2012 premiere, and the recent Seinfeld "reunion" tie-in with the Super Bowl has introduced many audiences to the show for the first time. The show, which streams on Crackle, is straightforward, and the brilliant title is not at all misleading. In each episode, Seinfeld and another comedian drive around in a classic car and share a cup of coffee. It's like a late night talk show but more genuine: Seinfeld chooses fellow comedians he is fond of, his guests aren't there to promote anything, and the conversations feel spontaneous and honest. Although we'll never know if the show is planned like other talk shows, there's a sense that the conversations are mostly improvised, and because Seinfeld's guests are fellow comedians, we trust that they aren't censoring themselves in front of the cameras as, say, a politician or movie star would.  
Seinfeld's Comedians in Cars Getting Coffee is preferable to his famous sitcom because it is his purest artistic statement to date. At this point in his career, the respected comedian can do whatever he wants, and that he chooses to push the creative boundaries with each project is remarkable. In this case, Seinfeld offers a meta-commentary on the art of comedy. His encounters with guests like Louis C.K., Tina Fey, Chris Rock, and Larry David provide glimpses into the entertainment industry and the experience of being a professional comedian. More interestingly, they demonstrate what draws individuals to comedy in the first place. Comedy, Seinfeld and his guests suggest, is the ability to laugh at the absurdity of life and the irrational, meaningless experience of being in it. Whether it is Chris Rock's articulation of why bullying benefits children, Larry David's rant on why it doesn't matter whether he drinks coffee or tea, or Louis C.K.'s justification that he went into debt to buy a boat, there's a sentiment that none of it matters so they might as well laugh at it while they can.
Seinfeld has always been a brilliant observational comic, and most critics and fans deem his self-titled sitcom "a show about nothing." However, Comedians In Cars Getting Coffee is the ultimate show about nothing, but the irony is that as we follow Seinfeld and friends as they talk about the meaning of comedy and the meaning of life, nothing inadvertently becomes everything. It is doubtful that Comedians in Cars Getting Coffee will become as popular as Seinfeld, but as an artistic and comedic expression, it is by far Seinfeld's greatest achievement.