Internet Created the TV Star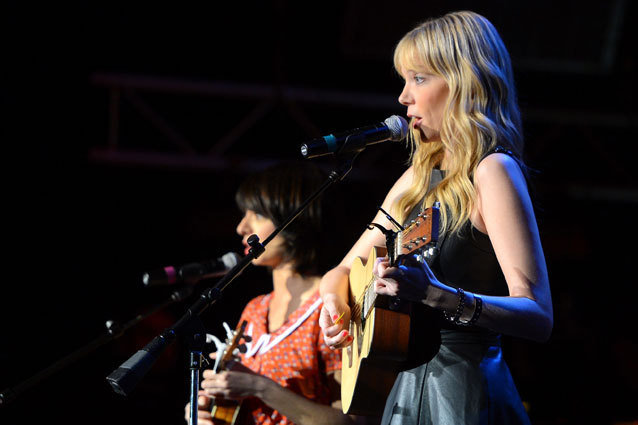 razer Harrison/WireImage
It used to be seedy comedy club basements and open mic nights was where television scouts would seek out emerging talent, but now all you need is a savvy web-series and a snappy Twitter account. That's not to say the talent has been devolved, just the venues have evolved. With Hulu screening comedy shorts and Youtube becoming the predominant way we consume entertainment, it's no surprise that Internet personalities are making the jump to the television more than ever. With the success of Nikki and Sara Live, Lonely Planet and Stevie TV, here is the next set of online comedy stars to keep your eye on.
Garfunkel and Oates
While IFC's Portlandia likes to poke fun at the twee-inclinations of its native hipster population, the network is welcoming a ukulele and guitar playing music duo that would fit right in on the show. Despite their preciousness at first glance, the folk-comedy duo Garfunkel and Oates are anything but quirky clones of Zooey Deschanel. No topic is off-limits, and while some of their early videos were pretty no-frills, they've since stepped up their game with polished videos and catchy tunes. The popular web series will join IFC's line-up next year, as the show will center on the personal and professional lives of Kate "Oates" Micucci and Riki "Garfunkel" Lindhome. Think Flight of the Conchords without the Kiwi accents. Optioning these two was not exactly a risky roll of the dice, as both ladies already have careers in Hollywood (you might recognize Micucci from her recurring roles in Scrubs, Raising Hope and The Big Bang Theory), but we're glad their satirical singing skills will be reaching a larger audience.
Broad City
Another successful female comedy duo that will be making their television debut are Abbi Jacobson and Ilana Glazer. The concept of female friends navigating life in New York is sure to draw Girls comparisons, but the two comedians have been creating their gonzo-style web series Broad City since 2009. Coming up the ranks from UCB, the two are well versed in improvisation and got one of UCB's most famous alums — Amy Poehler — on to executive produce the show for Comedy Central in 2014. The former web series will transition to 10-episode scripted comedy with the help Louie producers Dave Becky and Tony Hernandez. With more of an upbeat take on city life and indefinable comedic chemistry, we're excited to have these broads on board.
Good Neighbor
Landing a role on Saturday Night Live would be a dream for any comedian, especially when the rest of your comedy troupe joins you. To be honest, the digital shorts were the strongest segment of SNL until Andy Samberg and Lonely Island left the show. To replace them, SNL recruited the comedy troupe Good Neighbor, whose comedy web series were already viral hits themselves. Nick Rutherford, Kyle Mooney, Beck Bennett and Dave McCary had already been in talks to do a pilot for Comedy Central produced by Will Ferrell and Adam McKay, when Lorne Michaels snatched them up. While one of the members, Nick Rutherford, was snubbed by SNL, the rest of the troupe has already proved their mettle on the latest SNL episode where Mooney avoids the seduction attempts of Miley Cyrus.