Comic-Con 2012: 'Attack the Show' Host Candace Bailey's Insider Perspective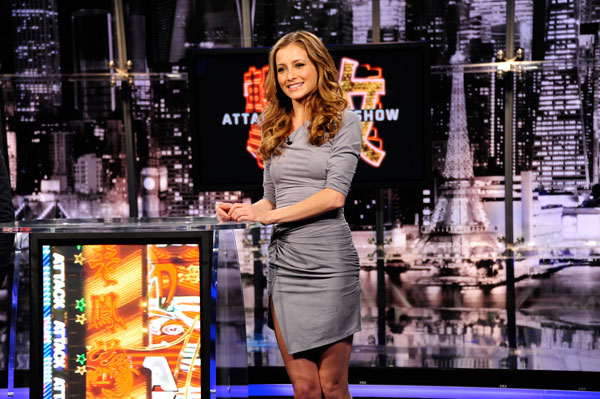 "It's my favorite time of the year!" Attack of the Show! host Candace Bailey gushes about Comic-Con. "I mean, it's so chaotic, and you don't get a lot of sleep, but it's so much fun." The 22-year-old Nickelodeon star-turned-actress — who is best known for her role as Skylar on Jericho — tells Hollywood.com what it's like to experience pop culture's biggest circus, San Diego Comic-Con, from the point of view of a TV show host, where she will be making an appearance for the second year in a row.
Despite all of the attractions at Comic-Con, Bailey stays busy with a constant stream of Attack of the Show! appearances and live broadcasts.
"We do a four-hour live show on Saturday, a one-hour live show on Friday, and we do a panel, and signings, and we're constantly being dragged all over," she said.
Bailey said that she loves doing the live shows (which she will be hosting with Comic-Con veterans Chris Hardwick [An Attack of the Show! regular and the overlord of the Nerdist brand] and John Barrowman [Doctor Who, Torchwood], respectively) because fans are able to come and watch the broadcast. "When we get to do it live, in front of a whole bunch of fans, and people dressed up, and all that amazing energy makes it incredible," Bailey remembers from last year's Comic-Con.
Bailey's favorite part of the Comic-Con experience? Going on the floor and interact with her fans. In particular, Bailey loved filming a package at last year in which she went around the convention center floor trying to get people to dance with her. "It was a little intimidating, because I have to go out there and be myself in front of all these people who are staring at me," she admits. "Some may like me, some may not, but I'm out there shaking my butt and trying to get people to dance with me. Some people were laughing, and some people were like, 'Who is this crazy person?'"
But don't think that Bailey is too busy being a work-first Comic-Con star to be a fan-girl. She plans to dress up like Catwoman, and even among all of her Attack of the Show! responsibilities, will be spending precious time obsessing over her favorite show.
"I love The Walking Dead! Robert Kirkman is taking me on a tour of the zombie obstacle course. I am thrilled, because whenever we have someone from The Walking Dead on the show I'm so excited, I'm about to pee my pants, I love the show so much."
It looks like Comic-Con is an opportunity for everyone to obsess a little bit — even the stars themselves.
Additional reporting by Matt Patches
More:
Comic-Con 2012: 20 Burning Movie Questions for SDCC
Comic-Con 2012: Burning TV Questions for SDCC