Comic-Con 2012: 'Breaking Bad' in German Subtitles and "Magnets, B***h!" — VIDEO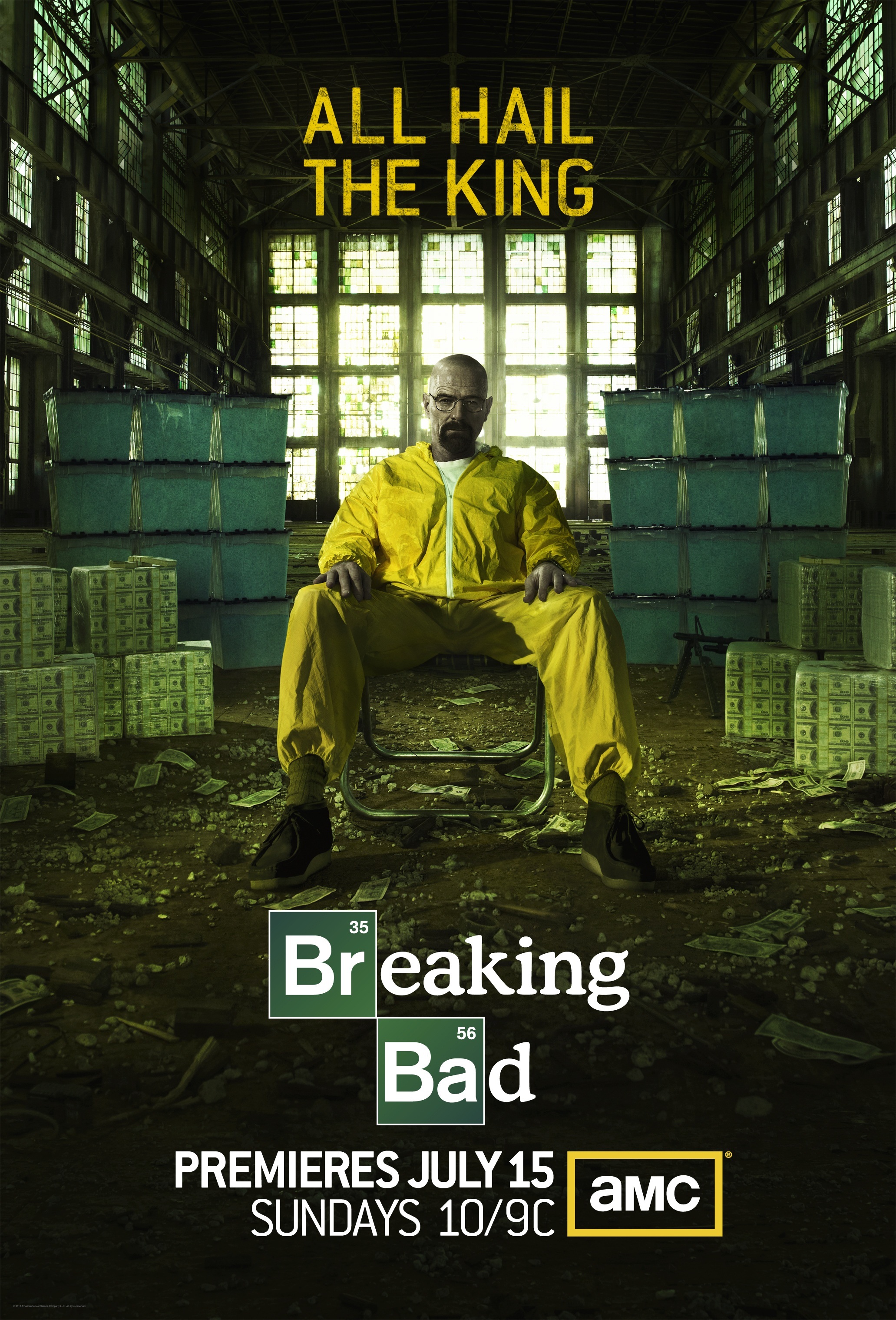 For fans of the show Breaking Bad, their Comic-Con panel was a last-chance to get a bit more information and insight into the end of one of the most acclaimed and riveting shows on television. The gang was all here: Bryan Cranston and Aaron Paul getting especially into the spirit of the convention (costumes!) with a twist that was a nod to the show (hazmat suits! A dropped fake baby!) Dean Norris, who plays Hank,  went the slightly more literal route, dressing up in full-on Xena regalia. Man, for a show about drugs and cancer, these folks sure know how to lighten the mood, huh?
Those men were joined by fellow castmates Anna Gunn, Betsy Brandt, R.J. Mitte, and Jonathan Banks, as well as showrunner/executive producer Vince Gilligan, and talk they did. There was much talk, of course, about main man Walt and how his character became who he has over the course of four seasons. According to Cranston himself, he's "toxic" and that he's been that way for the entire run of the show–though Gilligan begs to differ: he believes that Walt went sour during "season one, episode four" (how very exact of you), but that the character's identity as being unsympathetic is not the overarching theme of the season. Moderator Mike Schneider asked Gilligan about last season's finale and how it relates to where Walt White is going. "In Season 5, we've got a new king: his guy here," Gilligan says referring to Cranston. "How many of you guys think this guy's as bad as he's going to get?" The crowd certainly didn't think Walt was at his worst, to which Gilligan teased, "I don't know. He may get worse yet."
"This season is about winning and what it is to stay on top" explained Gilligan. He also referenced Alexander the Great, and how he weeped when conquering the world. Will it be the same for Walt? Or is a happy ending in sight?
Well, it depends on your definition of "happy" I suppose: "Perhaps the happy ending would be that he dies, but I don't know" said Cranston. Death is certainly in the cards, and Gilligan hasn't forgotten about Walt's cancer; you know, the reason he got into this whole meth thing? Remember?
One big reveal that happened was the discussion of Madrigal Electromotive. And the word is? Well, get your German skills sharpened, because Madrigal plays heavily into the new season. Apparently there will be more German subtitles than Spanish! Si? Ja! So much so, that episode two will partially take place in Hanover, Germany. Intriguing!
Other new factoids about season five include the introduction of Lydia, played by Laura Fraser, an old associate of Gus. "She's gonna make life interesting for a couple of these folks on the panel this season," explained Gilligan. Also be on the lookout for more Skinny Pete and Badger.
And what of fair Jesse Pinkman and his role in the upcoming season? He had two words for us: "Magnets, b***h!" It wouldn't be a Jesse moment without a little b-word in there. Though that isn't all to look out for during the episode, as Cranston explained that a teaser at the end of the episode is "the most revealing teaser 'Breaking Bad' has ever shown."
Cranston believes that "it seems everyone is in agreement that the tension of this last season we shot felt far more stressful." Paul explained that he found it to be "just eerie. It's just creepy." He compares the tone of the season to last season's "Crawl Space" episode (maniacal laughter?). Cranston says that while Sunday's premiere is far less violent than pervious seasons, it's still very intellectual with a bit more black comedy than in more recent seasons.
One thing's for certain, they won't leave people hanging: "All will be answered by the end of these 16 episodes," Gilligan promised. We're holding you to that, sir!
Also revealed was a new trailer, which you can check out below:
[Image Credit: AMC]
Follow Alicia on Twitter @alicialutes
More:
Watch Bryan Cranston's Stunningly Become Walter White in Under Eight Minutes
'Breaking Bad' Season 5 Premiere To Stream Online For Dish Subscribers
'Breaking Bad' Season 5 Promo: Because Walt Says So!