Comic-Con 2012: Burning TV Questions for SDCC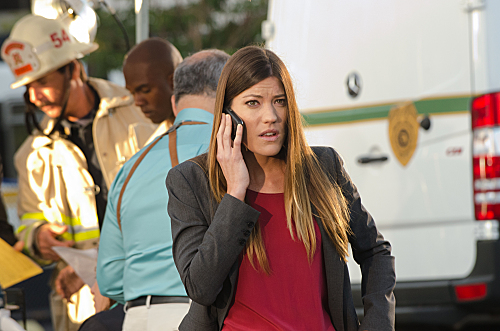 From what we hear, San Diego's Comic-Con used to be all about comic books and movies —what a strange, novel idea! While comic classics and big-screen adventures are still a major part of the convention, SDCC can now be viewed as a litmus test for television's growing popularity. In recent years, the infamous Hall H has been flooded with frantic fans flocking to see their favorite hits from the small screen, and 2012's convention will feature more shows than ever before. Hollywood.com will be on the floor for many of your favorite shows, bringing exclusive scoop and interviews from their hottest stars. But before we grab our badge and brave the crowds, let's run down what we already know from your favorite hits, and, more importantly, what we're dying to find out. MINOR SPOILERS AHEAD!
Dexter: At the end of season 6, fans were treated to the moment they'd been waiting for since the days of the Ice Truck Killer: Deb (Jennifer Carpenter) walked in on a kill. This. Changes. Everything.
What We Need To Know: To put it mildly, season 6 of Dexter was a disappointment. In fact, things haven't been quite the same since the phenomenal John Lithgow took his final bow. Having Deb in on the game (or battling Dexter) would certainly shake things up, but fans really need to know how they plan to keep things fresh for season 7. Showtime has been pretty mum about this season's new big bad, but we do know that newcomer Ray Stevenson will play a high-ranking member of an Easter European crime ring, with Katia Winter recurring as a Russian stripper. This high-power organized crime factor is new territory for Dexter, so we're keeping our fingers crossed for a quality trailer.
Community: Creator Dan Harmon was fired after a tumultuous season 3, and a series of leaked voicemails that exposed extreme personal and creative differences with Chevy Chase. David Guarascio and Moses Port (Happy Endings) will take the reins for season 4, while Chase has confirmed that he will definitely return for another year at Greendale. When we last left the study group, Jeff (Joel McHale) was searching for his father, while Troy (Donald Glover) became the "messiah" of Greendale's Air Conditioning Repair Annex.
What We Need To Know: How the new showrunners plan to handle the transition, and their plans for the tone of the show. Community is one of television's most unique treasures, and its devoted fans are fiercely loyal to Harmon. Guarascio, Port and the cast have been relatively quiet since Harmon's firing, so Comic Con will be their big debut. Expect plenty of scoop on the Community front, Human Beings.
The Walking Dead:
They're everywhere! At the end of season 2, Andrea (
Laurie Holden
) was rescued by a hooded woman when she became separated from the rest of the besieged gang, who were forced to flee Herschel's (
Scott Wilson
) farm. It was soon revealed that this woman is none other than Michonne, a popular sword-wielding heroine from the comics. Meanwhile, the Grimes Gang were left reeling over the news that the virus that makes "walkers" is alive in all of them, so even a natural death would result in zombie rebirth.
What We Need To Know: Michonne's casting has already been revealed — Treme's Danai Gurira will join the cast when the show resumes next fall, along with David Morrissey as a formidable villain known as The Governor. (Check em' out in the brand new poster!) But more importantly, we want to know how season 3 will look with new showrunner Glen Mazzara officially at the helm. Will he quicken the dull pace of season 2? The final 3 episodes of last season were a vast improvement over fall's poorly received Sophia snooze-fest, so we have high hopes for Dead's panel at this year's Con. 
Game of Thrones: Stannis (Stephen Dillane) is (maybe?) defeated! Tyrion (Peter Dinklage) lost his power over the realm! Jon Snow (Kit Harington) is a wildling! Theon (Alfie Allen) and Davos (Liam Cunningham) might be dead! So much happened in last month's finale that there aren't enough exclamation points in this world to encapsulate. We doubt the GoT crew will give away too much about season 3 since it's (unfortunately) eons away, but George R. R. Martin knows how to give a good panel. (Though it's pretty hard to adequately tease plot lines when everything already exists in a book.)
What We Need To Know: They've already announced a bevy of characters that will join the cast for season 3 (which will be based on the third book in George R. R. Martin's A Song of Ice and Fire series, A Storm of Swords). We'll on the lookout for any casting announcements, or new exotic filming locations to expand upon the already vast world of Westeros. Also, since A Storm of Swords will be split into 2 seasons, we're curious to know where this one cuts off.
Breaking Bad: The fifth season of AMC's groundbreaking drama premieres on the final night of 'Con (Sunday the 15th), so fans won't have to wait too long to see where Walt (Bryan Cranston) and Jesse (Aaron Paul) ended up after last season's dramatic face off. (Get it?)
What We Need To Know: Is Walt really capable of killing a child? After seeing that Lily of the Valley plant in his backyard, it would certainly seem so. Was Saul in on the scheme? Also, getting rid of Gus leaves plenty of room for a new big bad — but will this season's opposition be a brand new face, or has Walt himself become the show's main antagonist? We expect Cranston and co. to touch on all of these issues and more, so be sure to check back for updates!
Once Upon A Time:  The first season's finale brought good news and bad news. In the "good" column, residents of the cursed Storybrooke, Maine regained their memories when Emma (Jennifer Morrison) finally broke the evil spell. However, fans were left with a cliffhanger when Mr. Gold/Rumpelstiltskin (Robert Carlyle) and Belle (Emilie de Ravin) seemingly went ahead and cast another one. It looks like magic has finally made its way to "our" world, but what this means for our favorite characters is yet to be seen.
What We Need To Know: Well, besides more details about the latest curse, we'd like to see what the newly cast Mulan and Sleeping Beauty will be up to. Jamie Chung (who will now and forever be known as the girl from The Real World: San Diego) and The Tudors' Sarah Bolger have officially joined the roster, but the Once-lers have kept mum about their role in Storybrooke. We're hoping for some overall badassery from Chung (and not only to make up for Sucker Punch).
The Vampire Diaries: In the final moments of May's third season finale, TVD fans were shocked when Elena (Nina Dobrev) died, only to re-emgerge minutes later as a bona fide creature of the night. Also, Klaus is somehow occupying Tyler's (Michael Trevino) body.
What We Need To Know: We're not sure if anything can beat Caroline's (Candice Accola) hilarious-slash-heartbreaking season 2 transformation, but we're curious to see producer Julie Plec and co. try. Also — if Klaus is occupying Tyler's body, what does that mean for his soul? And how the heck does Trevino plan to pull off the conniving Brit Joseph Morgan?
True Blood: Since we're right smack in the middle of the season, the True Blood gang might not have too much to give away. But after an intense make-out session between Sookie (Anna Paquin) and Alcide (Joe Manganiello), fans will be chomping at the bit for any details on Sookie's love… quadrangle?
What We Need To Know: How they plan to proceed without showrunner Alan Ball leading the way. The show just got picked up for another season, which will be its first with co-executive producer Mark Hudis at the helm. Does he have any plans for a change of direction? 
Fringe: Fringe's final season will debut this fall (tear), and after a madcap season 4 that included a special flash-forward to a dystopian 2036, Peter (Joshua Jackson), Olivia (Anna Torv) and Walter (John Noble) experienced some sort of happily ever after when they saved our universe and learned that Olivia was pregnant. However, this pregnancy fits perfectly with the grim future presented in the flash-forward, where Peter and Olivia's daughter tries to survive a world run by evil Observers, and Olivia is supposedly dead. 
What We Need To Know: According to Noble, Fringe's final go-round will take place almost exclusively in 2036, where the original Fringe team (plus Peter and Olivia's daughter, Etta) are wanted insurgents. Using the Observers as final-season villains is a huge plot shift, because we always thought September was our dearest friend. Does this mean the Observers were behind everything all along (even September)? Will we ever see the alternate universe (and our beloved Lincoln Lee) again? Are peacoats still in style in 2036? In case you couldn't tell, we're pretty excited for the Fringe panel. Please excuse the impending exclamation points.
Sons of Anarchy: Season 4 of SoA ended on a major bang: Jax (Charlie Hunnam) finally learned that Clay (Ron Perlman) killed his father (and tried to kill Tara), but now he has to keep the old bastard alive. Agents in the CIA-backed Galindo cartel are using the Sons as their drug and weapon runners for their deal with the Irish Kings, who will only deal with Clay. Galindo will crush the now Jax-led Sons if their Irish investigation fails, so Jax will need to try his darndest to keep internal issues at bay. To make matters worse, Tig (Kim Coates) ran over the daughter of the most infamous drug kingpin in Oakland.
What We Need To Know: We learned on Lost that Harold Perrineau will do anything for his kin. So when we heard the news that Perrineau had joined the cast as Damon Pope, the famous gangster/father of the woman run over by Tig, we were thrilled. ANY news on his character, and upcoming gang drama for the Sons, is necessary. 
Follow Shaunna on Twitter @HWShaunna
More:
Comic-Con 2012: The Web's Most Anticipated Panels
The Future of Marvel Movies Looks Absolutely Insane