Comic-Con 2012: 'Cleveland Show' Illustrates Nicki Minaj and Kanye West

We've seen Kanye West animated for
The Cleveland Show
before, but now it looks like he'll be getting some company as some of the rap world's biggest stars — including Nicki Minaj, ?uestlove, Will.i.Am and Bruno Mars — will join him for the season premiere.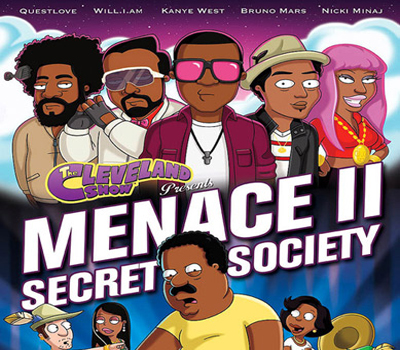 Series creator Seth MacFarlane presented a poster for the episode, which is called "Menace II Secret Society," at Comi- Con. All of the stars will play themselves as part of a secret rap Illuminati that controls pop culture, which totally doesn't exist in real life, obviously. Executive producer Rich Appel elaborated on the episode's plot, saying "Cleveland inadvertently breaks into [the society] and then it's how he will either bring them down or they'll bring him down."
The episode premieres on October 7 on Fox.