Comic-Con 2012: 'Dexter' Gang Explains How the Tables Have Turned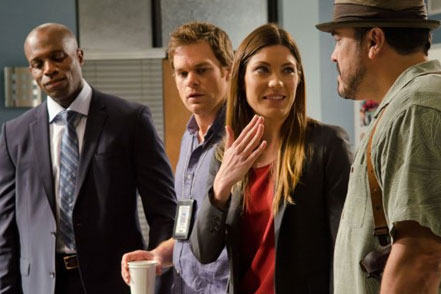 If there was any doubt that the seventh season of Dexter was going to be a big one, they were put to rest at the Comic-Con panel tonight. Lucky for you, Hollywood.com's own Shaunna Murphy was on the scene to get all the killer details.
Fans were treated to several exclusive insights on where the show takes our beloved serial killer, his lovelorn step-sister Deb, and his toddler son Harrison. It should go without saying that major spoilers are awaiting you if you choose to read on!
Attending the panel this evening were cast members Michael C. Hall (Dexter), Jennifer Carpenter (Deb), and guest star of Chuck fame, Yvonne Strahovski (newcomer Hanna). Also on hand were executive producers Sara Colleton and Scott Buck.
So what are we in for next season? As we mentioned before, a big part of the season will deal with Deb's knowledge of Dexter's dark passenger — well, at least she knows he killed Colin Hanks. Fans were treated to two minutes from the opening of the season, which picks up right where we left off all those months ago: Travis is on the table dead, and Deb cannot deal with what she's seeing. Dexter lies to her (of course) and tries to explain that he'd come to do one more forensics sweep. Deb is clearly not buying it, as she continues to mention the fact that he was wrapped just-so in plastic. The scene ends with Deb calling the police while Dexter screams "no!" You can check it out here:
So where does this leave us? With a lot to unravel, apparently! Carpenter told the audience that "this is the first year where I [as Deb] have felt lost…there's no compass. I've never moved with such uncertainty through every line; through every 'f**k' and bad word. In a weird way, the tables feel like they've turned: I'm the one that's trapped in my f***ing head." This uncertainty and instability is a continued thread throughout the season, as both Dexter and Deb have to deal with the repercussions of Dexter's son Harrison getting older.
Michael C. Hall explained it thusly: "As Harrison gets older and grows more receptive, it becomes a dicier propostion every day. The fact that someone who is also one of Harrison's guardians, Deb, has a sense of what she's dealing with, that changes things as well. But Harrison is still an individual." So what does this mean for adorable little Harrison? Will he start to sense his father's evil deeds? Will Deb feel a need to protect him or take him away from his father? Looks like Dexter may have to finally, actually figure out a way to shield his son from his own handiwork.
But that isn't the only thing that's shifted: it seems as though Deb's confidence in her position (at work, and now over Dexter) does not waver (even if her emotions go on a roller-coaster): "If anything, it's not that she's shying away from the power that she has. She actually needs it. Its the one card she has to play."
Also bringing some mysterious power to the table is new guest star Yvonne Strahovski. Her character Hanna has a dark past (or does she mean…dark passenger?!) that must somehow come into play this season. Strahovski explained that she plays "a woman who is a woman of mystery with a dark past. She meets Dexter, and helps him with an investigation." That's all you're going to get, though. Mystery and intrigue abound!
Towards the end of the panel, things got more lighthearted. There was a joke that this will be an "all bath salts season" because the show takes place in Miami (the same place where the gruesome cannibal-tinged murder took place earlier this year. Florida, man!), as well as something that seemed to be a jab at Jennifer Carpenter's cooking skills. At one point a fan asked about the biggest lie Hall had ever told. "That was delicious," was his response. There were some side-eye/death stares then exchanged between Hall and Carpenter, causing a raucous laughter to emit from the crowd.
Fans were also treated to a season 2 trailer for Homeland, Showtime's other award-winning hit show. There was a brief discussion surrounding the state of the characters on the upcoming season — as well as an announcement that the show will return to the Middle East. At the end of season 1, fans were devastated when the eternally beleaguered Carrie Mathison Claire Daines underwent electroshock therapy. This season will dedicate some time to putting the pieces back together, according to producer Howard Gordon.
So there we have it! Another panel down: are you happy with what you learned about the upcoming season of Dexter, or did you wish you knew more? Let us know in the comments below!
Additional reporting by Shaunna Murphy.
Follow Shaunna on Twitter @HWShaunna
Follow Alicia on Twitter @alicialutes
[PHOTO CREDIT: SHOWTIME]
More:
Are 'Dexter' Stars Michael C. Hall and Jennifer Carpenter Reconciling?
What 'Dexter' Does: Solving the Deb Problem in New Teaser
'Dexter': Deb Begs Her Brother to 'Get Away from the Body' — TRAILER