Comic-Con 2012: Lionsgate TV To Produce 'Alice In Wonderland' Graphic Novel Adaptation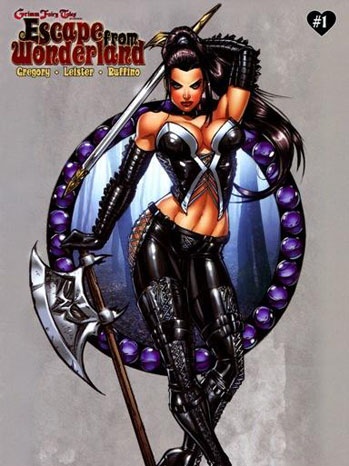 Get ready to tumble headfirst back into Wonderland. Lionsgate TV, the studio behind
Weeds
and
Mad Men
, announced at Comic-Con that they had just won the bidding war for the rights to Zenescope's Wonderland graphic novel trilogy.
There are countless adaptations of Lewis Carroll's book Alice's Adventures in Wonderland, ranging from simple re-tellings of the story to bizarre offshoots (including Alice in Zombieland, a Pride and Prejudice and Zombies-style genre mash-up, to Captain Carrot and the Oz-Wonderland War, a three-issue comic book mini-series featuring DC Comics' rabbit super hero Captain Carrot as he tried to quell hostilities in Wonderland). The Wonderland trilogy — which includes Return to Wonderland, Escape From Wonderland, and Beyond Wonderland —  stands out because it does not focus on Alice herself, but rather on her daughter, Calie (an anagram for Alice).
The trilogy was a limited spin-off of the comic book series Grimm Fairy Tales, which presents fairy tales with modern, and often dark, twists. It shows Alice Liddle as a mentally unstable adult who clings to a white rabbit and once tried to commit suicide. Her teenage daughter, Calie, does not want to deal with her mother's illness, so she turns to substance abuse and promiscuity and winds up venturing into a darker Wonderland than her mother ever encountered. The trilogy, which was written by Zenescope co-founders Joe Brusha, Ralph Tedesco and Raven Gregory, features classic characters from the Alice in Wonderland cannon, including the Queen of Hearts, Cheshire Cat and the Mad Hatter.
Brian Robbins, who served as an executive producer on the similarly comic-related Smallville, was chosen to EP the upcoming show.
"I love that it's a mother-daughter story; that's what really drew me to it," Robbins told The Hollywood Reporter. "In the same way that [Smallville's] Clark had a similar relationship with his father, there's a parallel here. It's a really great re-telling of the Wonderland story."
This adaptation of Alice in Wonderland for the small screen will fit right in with the recent slew of fairy tale shows, including Once Upon a Time and Grimm, as well as Alice, the four-part miniseries that SyFy produced just three years ago.
[Photo Credit: Zenescope]
More:
2012 Emmy Longshots: 'Once Upon a Time' Wild Card Robert Carlyle