'Community' Cast on What to Expect for Season 4, The Darkest Timeline, and Sperm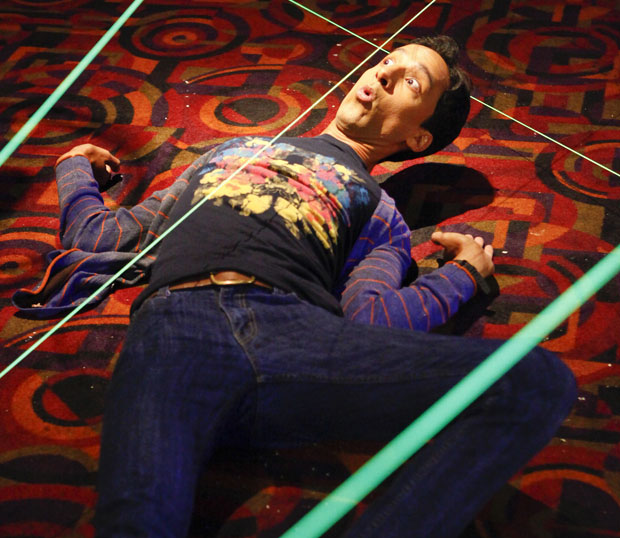 Happy October 19th! That's right, today in our hearts and minds, it is finally the day we've all been waiting for: the return of Community! Sure, the calendar might say it's actually February 7th, but we're all in the right state of mind: gleeful over the return Greendale's finest to the small screen. Many hearts were broken and set adrift when sister-in-fan-favoritism 30 Rock worked its final night cheese nary a week ago. But faith in the almighty peacock was temporarily restored when we remembered that Britta, Annie, Troy, Abed, Shirley, Jeff, Dean Pelton, and yes, even Pierce would soon be entering the study group's senior year.
RELATED: 'Community' Cast Spoofs Season 4's Delayed Debut on 'Troy & Abed In the Morning' — VIDEO
Lucky for everyone out there (including your fair author), we got a chance to sit down with Joel McHale, Jim Rash, Alison Brie, Yvette Nicole Brown, and Gillian Jacobs to get the [ice cream] scoop on what to expect tonight. And yes, ice cream plays a part in it. "The class we don't get into is so epic," Brown said. "It's probably my favorite joke class that we've had on Community."
Brown is, of course, speaking about the History of Ice Cream, a class our Greendale Seven hoped would involve "just eat[ing] ice cream," Jacobs explained. Which certainly sounds like a potential GCC offering. But all isn't as easy-breezy as it seems, because "Jeff is trying to graduate early — the little snake," joked Brie. Apparently, our favorite students don't take it quite so well. (Would you?!) "The study group is dealing with their feelings about [graduation], [at the same time that they] don't get into a class that we really wanted," Brie added.
But once Jeff's motives to take the class are revealed — so that they can all take one final class together, and that he can finish up his history credits and actually graduate early — the group is less than keen on the cream. "So it's like Jeff [is] trying to get into that class, and the rest of the study group [is] not really caring so much," Brie said. 
And that's because senior year might not be everyone's idea of a good thing — an anxiety that seems to mirror the fear fans have over this season being the show's last. And it's those very same fans and their "very vocal" (according to McHale) opinions that Brown feels have been missing from filming this go-around. "The only thing that's missing — because we're not airing [during filming] — is that third part of our little group, which is the audience telling us what they think," she said.
This is a deviation from the norm, because in past seasons they were used to the "audience going 'yay!' or 'boo!' and we [could] course correct. We found out in the middle of last season that it's hard when you don't have the fans' opinions." Brown explained that she used to "go right on Twitter and look at the hashtags to see what they were saying" and that without that it "feels different."
RELATED: Cast of 'Community' Hold Adorable Kittens Because: Internet — VIDEO
But the cast's fan heartbreak seemed to be the only thing that felt different for Season 4 — even with the loss of showrunner Dan Harmon. "It doesn't really feel that different, and that is not to diminish Dan Harmon's heart and soul over this show," explained Brown. "We of course feel the loss of Dan. But as far as our day-to-day life … it feels the same."
McHale echoed her sentiment. "Our crew was always together, forever, so in that sense it didn't change much at all. In that sense it was exactly the same." But not so fast! "The catering's changed." Oh, now you tell us, McHale! This changes everything! Is Shirley running the catering now? We know she's a business woman!
The Oscar-winning scribe Rash, who wrote his first episode for the series this season (the finale episode, for those who like to think ahead), chalks it up to the strong feelings everyone working on Community feels. "We're all personally attached to this, and we're all taking care of it together, you know?" he said. "It's been a very open dialogue about 'would you say this? Would your character sound like this?' There's always going to be slight growing pains with any kind of change, but I feel like we all came in and were like, 'we're here to protect what we were blessed to be given' and that's just been the goal. From [episode] 401 to [the finale]."
RELATED: Chevy Chase Dropping Out of 'Community'
The cast also spoke about some of the upcoming episodes' bigger moments — including an arrogant ancient history professor in Malcolm McDowell, an Inspector Spacetime superfan in Battlestar Galactica's Tricia Helfer, and a rival for Troy in Matt Lucas' Toby — with excitement and glee. McHale said that having Helfer in the episode was akin to "having Johnny Depp at the Pirates of the Caribbean Con." Fandoms collide! So many fandoms. Everyone collectively "loved Matt Lucas!" and hinted that we will first see his character Toby during the big convention.
And true to form, cosplay was, well, at play. "They hired background actors that had their own costumes … people that did their own cosplay," Brown said. She recounted a particularly terrifying-sounding costume that gave her pause. "There was one guy I wouldn't look in the eye because I don't know if he was a droid or a demon or what," she said. "He had completely black [and] ice blue eyes, and a tail. I was like 'Hey…hey…God Bless.' They were scary… but they were at home making their own make-up and coming in like that. It was so cool." Needless to say, keep your eyes peeled for that monster.
Scarier still? The darkest timeline, of course! And what does it have in store for Season 4? "You know, I think some of that stuff does surface," Brie explained, vaguely. "Because Abed — in his mind — opened up the darkest timeline, it just still tinkers around in there. So there's little winks at it now and again. You may see it, a little bit more … and a bit more later." At this point, the actress began laughing semi-maniacally.
And perhaps the cherry on top of this ice cream sundae (oof, sorry to rub it in, guys)? We got to see a real teaching moment between Rash and McHale. When speaking about fans and the over-the-top things they do, Rash quipped, "I gave my sperm to one fan … is that weird? She just asked so nicely!" To which McHale instructed, horrified, "Never do that!"
Community returns (at last!) Thursday, Oct. 19, er, Feb. 7th, at 8PM on NBC. Will you be tuning in? Let us know in the comments!
[Photo Credit: NBC]
Follow Alicia on Twitter @alicialutes
---
You Might Also Like:

Who Wore This Crazy Hat?

Stars Who Changed Their Look